Whether it's Michael Phelps' feasts, Usain Bolt's chicken nuggets or Yohan Blake's banana habit, what athletes eat is the key to their success, as Matilda Battersby discovers.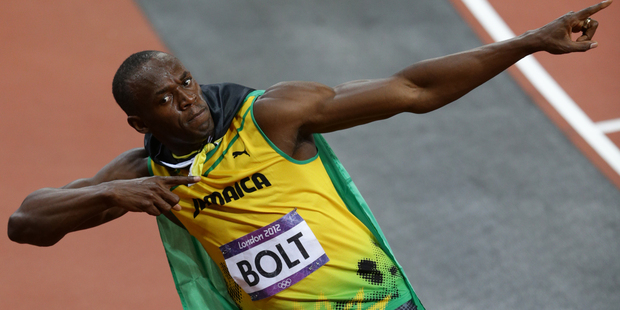 As Olympic mania sets in, it isn't just the impossible speed, muscle density and endurance of the world's greatest athletes that are leaving us open-mouthed - it's what they put into theirs.
American swimming titan Michael Phelps famously confessed to consuming three mayonnaise and cheese-laden fried-egg sandwiches for breakfast every day during the Beijing Olympics, as well as a daily intake of pasta, pizza, French toast and chocolate-chip pancakes. Jamaican Usain Bolt is known to chow down on chicken nuggets (15 at a time, for breakfast, lunch and dinner, washed down with a bottle of water) not a predilection one would normally associate with the ability to run 100m in a flash; while his rival countryman Yohan Blake happily peels his way through a healthier, if rather excessive, 16 bananas a day. And British Tour de France champ Bradley Wiggins prepared himself for the 3497km cycle race by eating porridge before bedtime.
Meanwhile, there has been outrage that the biggest McDonald's in the world has opened in Stratford for the duration of the Games.
Among the fare being served at the Olympic Village is pasta for breakfast, curried goat and baba ganoush and chips.
With so much fast-food on offer and so many differing opinions on the diet of champions, who knows what our leading athletes are really eating?
"Athletes are educated to understand the food/energy pay-off," says Nathan Lewis, a nutritionist who works with Olympic field-and-track athletes. "A nutrition programme underpins every training objective. Eating the right foods at the right times to have all the necessary building blocks to aid recovery is crucial."
That means providing necessary proteins, fats, carbohydrates, fluids, vitamins and minerals by eating a variety of foods from the key food groups. Getting the correct food intake to counter the huge energy expenditure, not to mention the bodily effort required for muscle recovery, brings the idea of a "balanced diet" to a whole new level.
Professional athletes today will have a nutritionist or dietician working with their coaches to build tailored eating programmes to ensure they are at their best in time for a major competition.
Nigel Mitchell, head of nutrition at Team Sky and British Cycling, says: "What an athlete eats is very specific to where they are in the lead-up to a race and what that race is. For example, my Tour de France cyclists eat twice as much as my Olympians because the races are totally different."
Wiggins, who is a svelte 66kg, was taking in 6000 calories per day to get him through the Alps, but his Olympics diet took a different road.
Consuming the right amounts of proteins, carbohydrates and fats is not as simple as eating rare steak with pasta for dinner every day. It is about building up stores of carb-rich foods in the hours and days before a competition. Ingesting small amounts of carbs during exercise is also known to enhance cognitive and physical performance, so timing is crucial.
James Collins, lead nutritionist for Arsenal Football Club and British Judo, says: "When making weight, players will have six smaller meals each day - approximately every three hours - to prevent hunger and keep important nutrients such as carbohydrate to fuel the muscles and protein for repair to the muscles."
Because of the toll that regular strenuous exercise takes on the body, athletes have higher protein needs than the general public to support repair. Because of this, and because most of us measure our own food intake in calories, the quantities consumed by athletes seem staggering by contrast.
Phelps gobbles down 12,000 a day while British cyclist Chris Hoy takes in 4000 a day plus six litres of water. Bolt is alleged to eat six meals day containing 30 per cent carbs, 60 per cent protein and 10 per cent fats.
"Athletes are basically constantly eating," says Wendy Martinson, an Olympic sports dietician.
Fitting the volume of food required to fuel Olympic activity into your body can be a trial in itself. When British comedian Eddie Izzard was completing his marathon challenge in 2009 (43 marathons in 51 days for charity), he complained about the number of potatoes he had to eat. Martinson says some Olympic rowers, particularly the lightweight female ones, do complain of bloating and discomfort. "We have to find creative ways to get them to take calories in," she says. As well as recommending multiple breakfasts and late-night porridge, some nutritionists use whey powder drinks, colostrums or milk (which naturally contains electrolytes, water and salts) to give athletes protein directly after exercise and boost repair.
One crucial part of the sports nutritionist's job is to boost immunity through foods. Olympians spend years honing their fitness only then to travel on aeroplanes to a new country where all manner of alien bugs can strike them down.
"It's a terrible fear that after all that training and hard work an illness will put them out of action," says Lewis.
Monitoring vitamins and minerals in an athlete's blood and boosting immunity with foods such as blueberries, colostrums, red peppers and green tea is all very well. But it isn't that practical - especially when the nutrient equivalent can be procured in shake form.
"At the end of a race we'll give cyclists recovery drinks containing protein and carbs that are produced by a sports product manufacturer," says Mitchell. "It's not better than eating a tuna sandwich but they only contain stuff you'd find in food anyway. It's just more convenient and controllable."
Plenty of athletes use legal ergogenics, otherwise known as performance-enhancing supplements, and multivitamins to give them anything their diets might be lacking. This means athletes can reduce the amount of red meat and fruit they eat and still maintain healthy protein and vitamin requirements. There is huge debate as to the value of such products over their nutritional equivalents. But one major risk is that they can lead to doping violations, so supplement regimes need to be staunchly controlled and set out by professionals.
There are doping risks from "normal" foods in any case - poppy seeds have been duly left off the menu at the Olympic Park for this reason. And eating liver can cause positive tests for the banned substance clenbuterol.
All the sports nutritionists interviewed said the Phelps diet must be an exaggeration.
It might be good from his perspective for his competitors to believe that his body is swirling with oily eggs, cheese, white bread and mayonnaise. But his abilities suggest otherwise.
- Independent