Taste of Auckland festival director Rob Elliot goes to Copenhagen to join the world's top chef, Rene Redzepi, in a symposium challenging the industry to make a difference.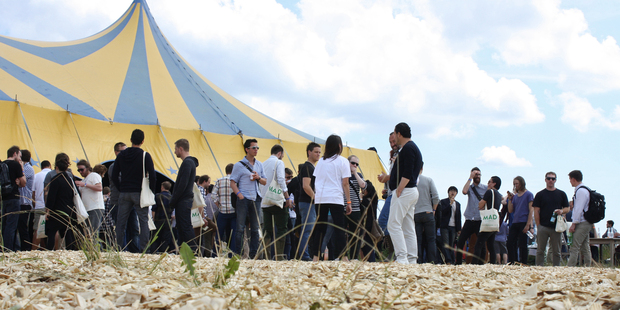 Last month 500 of the most influential people in the world of cuisine came together in Copenhagen to explore their favourite subject: food. They were invited by Rene Redzepi of the world renowned restaurant Noma, and this was the second annual MAD Symposium. "Mad" it turns out means "food" in Danish, so these folk weren't actually crazy. Perhaps just a little, but in some of the most excellent ways.
The event's official theme "appetite" was explored by an eclectic mix of speakers ranging from TV presenter Hugh Fearnley-Whittingstall to psychologist Paul Rozin, Nordic sea urchin fisherman Roderick Sloan and El Bulli founder Ferran Adria. Covering paddock to plate and all the trimmings, this was a chef's event for chefs.
So what was a humble event organiser like me doing among all of this? I was there for inspiration. Having organised more than a dozen large food events from Taste of Leeds to Johannesburg and our own annual Taste of Auckland Festival, I just had to jump on a plane for 30 hours to see what all the fuss in Denmark was all about.
Rubbing shoulders with the foodie elite, including Auckland's own Michael Meredith, was all part of the fun, munching on green strawberries and fresh raw carrots was simply appropriate. But through their selection of presenters the organisers seemed to make a profound suggestion about the chef's role in society; one that goes beyond just creating a better meal.
Yes, they're on every TV channel and in every fashionable magazine. They delight us with their creativity and provide us with nourishment. But given the recent rise in the celebrity of the chef, the knowledge available to those in the industry and the challenges we face as a planet, could our beloved cooks be doing something more? In Copenhagen, an emotional hour with Chido Govera from The Future of Hope Foundation on feeding orphans mushrooms in Zimbabwe was enough to get us thinking. Half an hour with Hugh Fearnley Whittingstall on the inherent waste of European fisheries, and cod was off the menu for the majority of us. Even bread will never taste the same again after Marc Veyret's proclamation that 4.5 billion people are eating a tasteless, nutritionally deprived wheat every day due to the high yield crop we have been harvesting since halfway through last century. Yes, we in New Zealand are included in that 4.5 billion.
Loosely, the Symposium's speakers covered: the psychology of dining, the passion that drives those in the culinary arts, the challenges of food diversity and sustainability. We heard from Rasmus Kofoed whose obsessive dedication earned him a gold trophy in the Bocuse d'Or (world chef championship); Kofoed admits to practising a monkfish dish for 1500 hours. But it was the more philosophical comments that stuck with us on the ferry home on the final day. As Ferran Adria said,"We weren't looking for perfection, we were searching for the truth."
It is clear Redzepi is a chef on a mission and at 34, after winning the largest global accolade three years running (number one in San Pellegrino's World's 50 Best Restaurants) he is not yet satisfied.
This is the sort of man who closes the most revered restaurant in the world to scatter wood chips in front of a circus marquee in the hope that he can challenge influential people to think differently.
Redzepi greeted every guest to the symposium with a handshake, frequently took to the stage to introduce speakers and handed around icecreams without prejudice on the final day.
Following this symposium one could be forgiven for thinking Redzepi is the leader of a new global movement. He is a champion of the resurgent world of foraging - his team at the Nordic Food Lab punctuated this by serving their audience a gourmet treat of live ants and larvae (apparently there's no such thing as "inedible," only "edible with consequences").
Redzepi is being more than "just a chef" and he is asking his contemporaries what their role will be. We have seven billion human mouths to feed in the world, so food needs to be debated. What better champion for a new movement like this than the world's top chef?
Living in one of the most geographically isolated countries on earth can distance New Zealanders from some of the big issues facing our planet. However, with the power of social media the MAD Symposium's 500 attendees created a worldwide Twitter storm that made it the number one trending topic on opening day, spreading the MAD message all over the world.
With delegates from far and wide, the thinking from Copenhagen has not been confined to the Nordic nether regions. Meredith will be sharing his experience with his peers at the annual Restaurant & Bar Show later this month.
There were so many profound statements at this event it is hard to know what quote to end on, so I'll finish with two. Mark Veyret's question "Are we ambassadors for something much larger?" and Fearnley Whittingstall's challenge about changing our approach to fishing to provide for future generations: "We have an opportunity to and therefore we must."
Michael Meredith - 5 lessons from MAD, Copenhagen
1. The trend of chefs championing and celebrating their culture and local producers is increasing worldwide.
2. Chefs are beginning to cook with more awareness of their own environment, gaining inspiration from the region and culture they live in.
3. What we choose to eat and to cook affects the world around us and can have huge environmental consequences.
4. Ingredients are really important - chefs are increasingly looking to celebrate the purity of traditional ingredients, not mass-produced.
5. At any level of cooking, competition and rivalry is good, but you have to be ethical and honest and most of all be happy - that is the human part.
* Taste of Auckland, Thur 15-Sun 18 November.