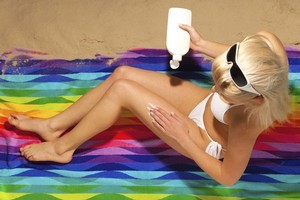 The recommended SPF in sunscreen is going up to 50+.
It's under new joint New Zealand and Australian Standards.
New Zealand Cancer Society CEO Dalton Kelly says it's taken a lot of effort and a number of years to revise the Australasian standard.
He says it's essential in this country where the UV level is so high and skin cancer is so prevalent.
"The thinking behind the SPF50+ is that people aren't putting enough sunscreen on, and if they continue to do that, at least SPF 50+ does help.
"Skin cancer is the cancer that most New Zealanders get, and we need to make sure we're protecting ourselves and our children to the best that we can.''
Dalton Kelly says it's the most significant change in sunscreen standards in Australasia for more than 15 years, and raising the SPF has been a long time coming.