Gill South tries to step out of the dark ages to catch up on new technology.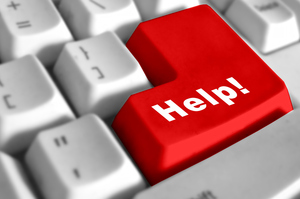 I like to torment computer techies every now and then and stun them with my ignorance. I remember when emails first started at work. PR companies would send me emails and then call to follow up. "You what?" I'd say. "I don't use email! put it in the post like normal people." I'm not what you call an early adopter.
This week I have enticed Susan Carlow, productivity and computer coach leader at IT services company Kinetics, to my house for a training session.
I had already given her an indication of my low level of expertise - the PR asked what version of Microsoft Office I was working with and that made my head hurt a bit. I sent an email to my husband who was overseas - he can't escape my plaintive tech support questions even from Japan.
I have Windows 7 for an operating system and OpenOffice 3.3 for word processing, I am told.
Well Susan is not scary at all, quickly taking in my limited ability, moulding the training session around my baby-steps desires. She understands that the fact I do something only twice a year means I have to be retrained each time - some people in my house are not so sympathetic.
Meanwhile, Susan says new versions of Windows (in the vague recesses of my mind, I recall getting Windows 7 about a year ago - it wasn't a red letter day for me) come with all these new tools and a lot of non-tech-savvy types don't actually use all the bells and whistles.
Susan, bless her, enjoys revealing the joys of these to clients. She starts me off with a crowd pleaser, which I've been using every day since. Go to the start menu as you enter your desktop, and there is a box you can write in at the bottom, which on my computer, says "search programs and files". Usually when I go on my computer I am looking to work on an article from the day before. So rather than ploughing through my folders, I just put in a keyword in this box. If I were trying to access this article, for instance I would put in IT - and all my documents/articles that had IT in the title would pop up. I'm delirious - this is a real time-saver for me. Instant gratification.
Next we have a wee play on my desktop - I have now got a giant flax plant as my screensaver, which gives me a lift every time I see it. For those interested, you go into the middle of your desktop, do a right mouse-click and go to personalise - you get a whole load of options. Oh the powers of the right mouse-click.
Susan does some housework on my computer - her fingers are obviously itching when she sees my documents library goes back to 2008 and beyond.
She gets me involved in sorting documents into year files, which involves a lot of left-clicking and dragging, I now have document folders for 2008, 2009 and 2010. Woo hoo!
The IT coach casts an eye over my emails. I know she is wincing inside. She shows me how to "yellow star" important emails that I want to go back to. Tagging is good too. Oh I feel so in control.
This is better than going to the hairdressers. Nearly.
Next week:
As an asthmatic, friends have suggested that I go and see Glenn White, a registered Buteyko Institute practitioner who runs the Buteyko Breathing Clinic in Auckland.