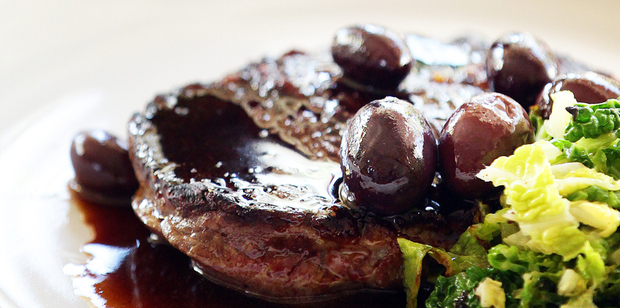 Mission Estate Cabernet Merlot
Don: Cabernet and beef are made for each other, especially when the cabernet is blended with merlot. Straight cabernet offers blackcurrant, mint, cedar and violet notes that can sometimes overpower lighter-flavoured dishes, but the addition of merlot lifts it and lightens it. The addition of cabernet franc or malbec changes the flavour again. The Mission Estate Cabernet Merlot is an overlooked gem.
Winter's night Scotch
1 Cook steak to your taste. I used a Scotch fillet. Remove the steak from the pan and keep warm to rest.
2 Deglaze the pan with some beef stock, scraping up all the pan juices into the stock. Add half a wine glass of Cabernet.
3 Add a dessert spoon of plum jam or jelly and whisk this into the stock.
4 Reduce the liquid to thicken and add in any juices that have come from your resting steak.
5 When nearly ready to pour over the meat. Add some nice black olives and, once they are warm, check the seasoning. Remember olives are salty so you may only need cracked black pepper.
Plate up your steak and sauce. I served this with some steamed Savoy cabbage and mashed potatoes.