Danielle Wright goes in search of the perfect brew, and the many rituals it has inspired.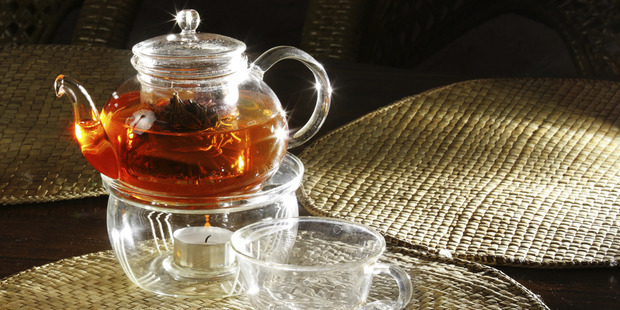 A few years ago I gave up coffee. I never felt the same yearning for my morning cup of tea as I did that first cup of coffee - until I discovered the rituals surrounding tea, found my favourite blends and learnt how to make a cup like the experts. I found, as former British Prime Minister William Gladstone said: "If you are cold, tea will warm you. If you are too heated, it will cool you. If you are depressed, it will cheer you. If you are excited, it will calm you."
HOW TO DRINK TEA
A cup of tea can be so much more than a weak milky drink, in fact, many aficionados swear against adding milk at all.
"I'd say always have tea without milk to be able to appreciate the aroma, character and finesse of a fine tea. Otherwise it's like ruining a fine single malt scotch with ice," says The Langham hotel's tea sommelier, Carl Crasto.
Many believe tea's health benefits are negated by adding milk (it's to do with the protein in milk diluting the tea's antioxidants) but the rule of thumb is that most black teas are served with milk, while herbal, green, white and fruit teas should be served without.
Mary Taylor of Food Matters, who hosts tea tours to Sri Lanka, tells me the Queen adds milk to her cup first, pouring the tea on top. She recommends drinking only from china cups.
"Definitely not dark pottery, you need to see the brightness of the tea," says Taylor, who values the importance of letting the tea brew, preferably in a pretty tea cosy, and loves its versatility.
"It's great as a punch base and in the navy, rum used to be added. You can add tea to gravy or use an Earl Grey to blanch vegetables," says Taylor, who suggests changing your tea during the day: "English Breakfast to start, Earl Grey or Lady Grey later in the morning and a chai tea in the afternoon. A camomile tea is nice before bed."
Lisa Goodheart from Harney & Sons also suggests alternating the teas during the day: "Assam tea to get you going in the morning and our yellow and blue chamomile with lavender is a lovely relaxing tea to enjoy in the evenings."
For the perfect cup of tea, Twinings says it only takes three minutes: the first minute for colour, the second for flavour and the third for health - allowing the tea to develop all the health benefits a cup of tea offers.
WHERE TO DRINK TEA
A dedicated tea shop offers a treasure-trove of choices for tea lovers. Here are a few worth seeking out:
Chapter
442 Mt Eden Rd, Mt Eden Village. Tues-Fri 9am- 5pm, weekends 9am-4pm. Ph: 021 635 027.
Take a look around the bookshelves in Chapter and you might wonder what passions are stirring along with the tea - it's a speciality romance fiction bookstore, as well as a tea shop offering over a hundred varieties of tea.
Tea Total
87 Kitchener Rd, Milford. Mon- Fri 8.30am-4pm, Sat/Sun 8.30am-3pm. Ph (09) 486 5291.
Pina colada and Moroccan mint are two of more than 150 types of tea available here. In the corner, a glass teapot offers up the day's favourite flavour for trial. There are large tins filled with tea or bags for sale in brightly coloured packs, such as Rangitoto Blend, a medium to strong large leaf assam tea with cuts of bourbon vanilla from Madagascar. It smells like freshly baked muffins.
The Tea Lady Refreshment Room
100A Hinemoa St, Birkenhead Point. Mon-Sat 10am-4.30pm, Sun 11am-3pm. Ph (09) 419 6257.
For such a tiny store, this tea shop punches above its weight: choose from "artistic teas" such as a handwoven white tea opening to display pink chrysanthemum and jasmine blossoms to herbal teas with added vitamins. It has a Kiwi vintage-feel.
Dominion Road Tea Shops
For iced teas with choices of flavours and toppings, as well as 10 different toasts on the menu, visit the Chalin Tea Shop (340 Dominion Rd).
Further along is Tekkoon Tea Shop (581 Dominion Rd), tea merchants with a range of tea and tea sets.
Chantilly Cream
130 Devonport Rd, Tauranga. Ph (07) 578 1326.
This vintage tea shop is the perfect haven for busy shoppers or tourists wanting a Kiwi take on the traditional Devonshire or high tea in quaint surroundings.
Zealong Tea Estate
495 Gordonton Rd, north of Hamilton. Camellia Tea House is open Tues-Sun 10am-5pm, Discover Tea Experience is on Tues-Sun 10.30am and 2.30pm, bookings essential. Ph (07) 853 3018.
On the outskirts of Hamilton, learn how tea is made, experience a traditional tea ceremony, have your photo taken in traditional tea picking gear, or have lunch or high tea at Camellia Tea House.
WHEN TO DRINK TEA
Lady Gaga is often spotted leaving London hotels holding on to her fine china tea cup (one with her lipstick on just sold for almost $95,000). Harney & Sons even created a blend for her.
You don't have to be a popstar to enjoy high teas - in Auckland, Mother's Day is the perfect excuse. Choose from:
* Deco Grand Tearoom at the Heritage Hotel in support of Variety - the Children's Charity (2.30pm, Sunday 13 May $65pp).
* Traditional high teas at Cornwall Park Restaurant, who also do a Little Ladies High Tea in July (9am-11.30am or 2pm-4pm, from $25.50pp).
* Create your own high tea at home by hiring vintage tea cups and other crockery from The Little Housewife, you can even order in at $32.50pp (10 min) from Bluebell's Cakery.
* Birkenhead's Stafford Villa is having a winter vintage high tea starting at the end of May until August, $40pp, or a special Mother's Day Rose Champagne High Tea.
* Devonport's Peace and Plenty Inn has a Mother's Day Victorian High Tea with Garden Visit at the heritage waterfront villa, $45 pp.
* Highwic's Mother's Day High Tea is $39pp for an authentic experience in one of New Zealand's finest timber Gothic houses.
* At the Langham Hotel, the birthplace of the high tea, meet a tea sommelier and feast on rolled ham crepes with tarragon mustard cream and Kiwifruit lamingtons. Daily from 12pm-4.30pm, $36 per adult Mon-Fri, $39.50 per adult Sat/Sun. Apart from high teas, there are many other tea ceremonies to experience. In Cantonese, "Yum Char" literally means "drink tea" - and what better way to drink it than with little baskets filled with food (dim sum).
Ones to try include Grand Harbour Chinese Restaurant, Sun World and Grand Park Seafood Chinese Restaurant.
Keep your eyes out for cultural celebrations, which may feature tea ceremonies such as The Confucius Institute in Auckland's "Tea Garden" at the Lantern Festival.
One of my favourite teas is matcha, used in Japanese tea ceremonies. Create one at home with a bamboo whisk and the tea, available in bags from Chapter.
PEERING INTO THE FUTURE
Across the ditch, savvy hotels are matching their afternoon tea experiences with a personal tea leaf reading - such as Sydney's Observatory Hotel with its Mystic Afternoon Tea at the Globe Bar.
Here in New Zealand, Judie Roberts learned to read tea leaves from her Scottish mother when she turned 13, her mother in turn learned the art from Judie's grandmother when she was also 13, and she has passed it on to her own daughters.
I meet Roberts for a tea leaf reading and she hands me a cup of Dilmah tea to drink.
As we chat she takes in things about me that will help her with the reading, a combination of tea cup reading, clairvoyance and working with a person's energy.
Once I have finished drinking the tea, Roberts tips the cup upside down on the saucer and turns it clockwise three times. She then reads the tea that remains in the cup in patterns that she recognises as symbols.
The tea leaves at the top of the cup represent what is happening now and those on the handle represent a person's wishes.
"Reading tea leaves is an art," says Roberts, clearly enjoying searching for sense within the leaves.
The things I'm told are insightful and let's hope they all come true!
In any case, I'll certainly always be able to rely on the comfort of a cuppa.
Visit judie.co.nz or ph (09) 407 6655. Learn the art yourself through the book, Time for Tea: The Gentle Art of Reading Tea-Leaves by Lindel Barker-Revell.
A ROYAL OCCASION
Diamond Jubilee Afternoon Tea at The Langham, Auckland
Celebrate the Diamond Jubilee of HRH Queen Elizabeth II with an indulgent Tiffin afternoon tea at The Langham, the perfect occasion to experience the very best of the old empire.
For the Jubilee month of June The Langham has a special Diamond Jubilee Tiffin Afternoon Tea menu including special sandwiches, savouries and exquisite royally-themed cakes and sweets along with their unique house-blend teas Daily from 11.30am-4.30pm. Priced at $65 per person, including a glass of champagne. Bookings essential. Ph (09) 379 5132 or email tlakl.winery@langhamhotels.com.
Weekend Life and the Langham Hotel are giving away tickets for two to a Diamond Jubilee Tiffin Tea during the month of June. To enter, go to nzherald.co.nz/weekend, enter your details and the keywords Diamond Jubilee Tiffin by midnight Wednesday May 16.