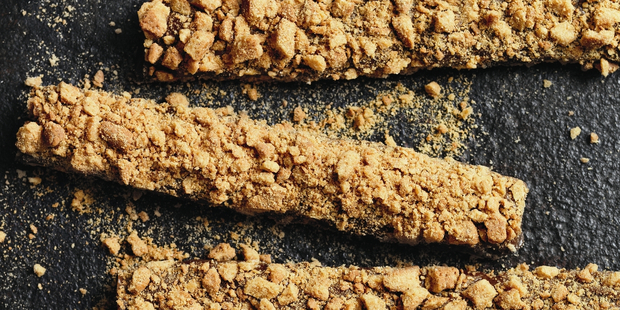 Serves 12
500g gingernut biscuits, chopped
220g butter
1 cup dark brown sugar
1 cup light corn syrup +
1 x 395g can sweetened condensed milk
1 Tbsp Dutch cocoa, sifted
1/3 cup coffee-flavoured liqueur
1 Place the biscuits in a food processor and process until roughly chopped.
2 Press half the biscuit crumbs into the base of a lightly greased 20cm x 30cm tin lined with non-stick baking paper, reserving the remaining biscuits. Set aside.
3 Melt the butter in a saucepan over low heat. Add the sugar and whisk until well combined. Add the corn syrup and condensed milk, increase heat to high and bring to the boil. Cook, whisking continuously, for 10-12 minutes or until thickened.
4 Remove from the heat, stir through the cocoa and liqueur and pour over the biscuit base. Press the reserved biscuits on to the caramel. Cool at room temperature for 2 hours or until set. Slice to serve.
* For more recipes by Donna Hay click here.