Balance is the key ingredient in any good brew, points out Don Kavanagh.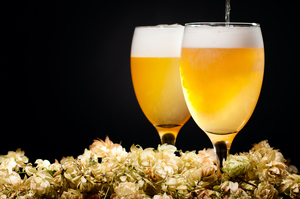 I've probably bored you all to tears with my opinions on hop levels in some beers, but I think I need to make one thing clear.
I love hops in beer. I love the sharp tang they give and the lovely dryness they offer to balance the sweetness of the malt, but the key word there is balance.
If a beer - or any other drink, for that matter - isn't balanced then it's not a very good drink.
Tea with three spoons of sugar in it is hideous. Bourbon drowned in cola is an all-too-common atrocity in bars, as is a gin and tonic where the tonic has been merely waved at the glass.
So I was delighted to come across some nice, hoppy beer recently that actually tasted of beer, rather than simply hops.
The first one was from Epic, a brewery known for its uncompromising hop levels, which can often overwhelm the malt characters of the beer. But Zythos is something else entirely.
Made from a blend of American hops, Zythos is named for the Greek version of an Egyptian word for beer. It's subtitled One Trick Pony, a sly dig at those who tend to dismiss Epic beers as simply tasting of hops and, to be fair, I could be accused of that very crime myself on occasion.
This is a fantastic beer. The nose is packed with pine-needle aromas with coppery notes and an underlying cereal sweetness, and the palate is great - big, sharp piney hop flavours, with a good belt of malt across the mid-palate and a nice tart finish. It carries its alcohol well (6 per cent abv) and it's a lovely, lively, well-balanced beer.
I also tried a selection of Yeastie Boys beers recently and, when it comes to hops, these guys really know how to pack a punch. All their beers have a heroic level of hop flavours, from the citric to the piney, but the Red Rackham, a Belgian-style amber ale, really stood out.
The nose alone is worth the price of entry, with fruit, spice and pine aromas mingling with a bready, yeasty character. It fairly explodes on the palate, with sourdough, stewed fruit and orange oil notes overlaid with a spruce-like hoppiness.
And for something a little more restrained, I was charmed by the latest ale from Australia's Little Creatures brewery. Rogers is a lovely session beer, weighing in at 3.8 per cent alcohol, with rich malt and caramel flavours balanced by crisp, mouthwatering hop bitterness. A charmer.