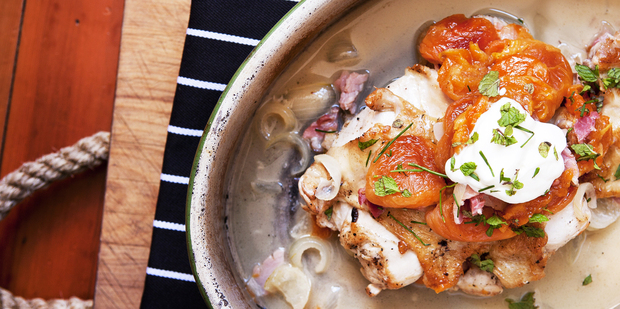 Serves 4
800g chicken thighs, boned with skin on
100g dried apricots
4 rashers free range bacon
2 tsp ground garam masala
1 cup diced prunes
3 cloves garlic, sliced
Salt and black pepper
1/2 cup white wine
1/2 cup vegetable stock
1 cup yoghurt
1 clove crushed garlic
1 tsp salt
Lemon to taste
Couscous or buttered rice and coriander to serve
1 Preheat the oven to 170C. Place the chicken, apricots and bacon into the braising dish.
2 Add the prunes, garam masala, garlic, seasoning, wine and stock. Cook for 2 hours.
3 Whisk together the yoghurt with the garlic and salt. Add lemon juice to taste before serving with the chicken.
4 Serve with couscous or rice and coriander.
* Check out Viva's brand new Facebook page, the place to find out what's hot in fashion, beauty, food, wine and design.