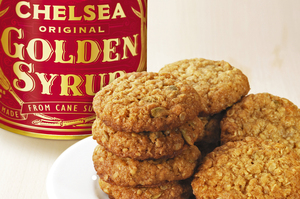 Like the pavlova, Anzac biscuits have had to share the invented-here credits with our Australian cousins. Legend has it the biscuits were baked and sent to troops in World War I. Early versions of Anzac baking included cakes and other biscuits, so food historians haven't found printed recipes for the rolled oat and golden syrup biscuits we recognise today until the 1920s (first called Anzac Crispies). The biscuit was economical to make (no eggs), could survive long enough to make the sea journey to the troops, but was still filling and tasty.
The essence of the biscuit is the buttery warmth of golden syrup with the tang of baking soda and chewy rolled oats and coconut. However, some people omit the coconut, some add new-fangled ingredients like sunflower or pumpkin seeds or cranberries, others cook the biscuit at a lower temperature for longer to vary the crunchy vs chewy texture. Try sandwiching small biscuits with a creamy chocolate filling, crumbling as a topping for fruit or using as a crust for a decadent cheesecake. Chelsea are celebrating the heritage of Anzac with a vintage golden syrup collectors' edition tin - with the recipe:
1 Melt 2 Tbs golden syrup, 1/2 cup raw sugar and 100g butter over a low heat.
2 Dissolve 1/2 tsp baking soda in 2 Tbs boiling water.
3 Add the baking soda liquid to the golden syrup mix together with 1/2 cup each of flour and coconut and 3/4 cup of rolled oats.
4 Some cooks add 1/3 cup mixed sunflower and pumpkin seeds. Spoon on a tray, flatten with a fork and bake for 12 minutes (or until golden) at 180 degrees.
* For variations and tips, go to chelsea.co.nz