Balinese food is known for its simple flavours using the freshest of ingredients.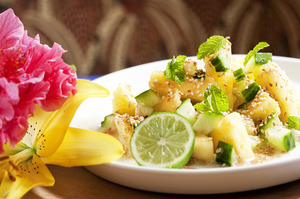 As the weather starts to close in and we prepare to hunker down for the cooler months, it's a relief to know you can still enjoy a taste of summer at meal times and at least pretend you're in the islands.
Apart from its beaches and blue skies, Bali is known best for its simple, delicious food bursting with flavour.
It's worthwhile spending the time to create the cuisine's luscious sauces from scratch because when it comes time for eating, only a little is needed to spoon over soft steamed rice.
Look out for free-range chicken thighs with the bone removed. This takes less time to cook and all the flavours will absorb into the meat, while the skin becomes a scrumptious extra delight.
To accompany the chicken, try a simple salad of chilled diced cucumber and pineapple. Squeeze on some lime and add a sprinkle of mint before drizzling with the sesame dressing. If you can't get your hands on any palm sugar, use brown sugar instead, but fish sauce is one ingredient I doubt can be replicated.
If you can't find it in your local supermarket, you'll definitely be able to find a bottle in an Asian one. Use a spoon or two then keep it in the fridge.
For a little sweetness, try my coconut and ginger sponge cake which I make in a traditional manner then add a spoonful of freshly minced ginger and top with a few flaked almonds before baking. Serve with slices of mango, a dollop of coconut cream and a drizzle of vanilla.
Chef's tip
Grill chicken with the skin on to create a sticky, flavoursome result. This means the meat is tender and the skin crispy - especially good when eating with your fingers!
* Check out Viva's brand new Facebook page, the place to find out what's hot in fashion, beauty, food, wine and design.