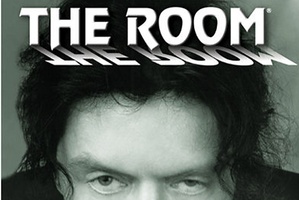 Many of our aspiring young film-makers can't wait for next Friday. Not because it's Good, but because it's the first Friday of the month, and that means they get to shriek, "Don't eat the apple! It's a metaphor!" at a movie screen.
The occasion is the monthly Auckland screening of The Room, a 2003 so-bad-it's-good "disasterpiece". Audience interaction is encouraged, a la Rocky Horror Picture Show. Academy Cinemas staff call their Room patrons not viewers but "participants", as in: "If the participants aren't wasted, there's something wrong." (Bags are checked for illicit alcohol at the door, gig-style.)
The film was written, produced, directed and self-funded to the tune of over US$6 million ($7.3 million) by mysterious long-haired, European-accented Californian Tommy Wiseau, who also stars as, ahem, "Johnny".
Randomness is a theme (if that's not an oxymoron): it's called The Room for no apparent reason.
One scene involves tuxedos for no apparent reason.
The decor includes a framed picture of a spoon for - yes - "no apparent reason". Fans throw plastic cutlery at the screen whenever the spoon picture appears - jubilant, majestic, fountain-jet explosions of little spoon shadows cut across the oversize onscreen woodenness. The frequent establishing city shots are greeted with increasingly loud audience shouts of "Meanwhile" - pause - "in San Francisco!" Shots of Johnny behind stair banisters prompt calls of "Alcatraz! You're trapped!" and again, all together now: "It's a metaphor!"
"I hate it when people talk through a movie!" yelled one wag at last month's screening.
"Basically it's made by a guy who's really, really, really mad at his ex-girlfriend. And ... that's all you need to know," explained the digital animation graduate from Gisborne sitting next to me.
He'd seen the love-triangle drama twice before on DVD, but bah, that's nothing! Computer science and film graduate Kermath, in the more vocal section of the cinema, had watched The Room 30 times on DVD and several times in the cinema (so far).
Kermath pointed out that it makes complete sense to watch it both at home and in the cinema as the DVD version isn't quite the same as the big screen version because Wiseau shot the whole thing through two cameras taped together: 35mm film and video. It explains why the version you see in the cinema - 35mm - is slightly out-of-focus and oddly cropped.
It's clearly an entertainment which rewards film geekdom. The film grads insist The Room is educational; it's a what-not-to-do textbook, over-slavishly following some film conventions and disregarding others entirely.
Shots are recycled between two long scenes of candlelit lovemaking within billowing gauze drapes; a drinking game based on continuity errors would be lethal. (I was proud to notice one mistake that had escaped even Kermath.) Lurid subplots and characters come and go without explanation. "Who are you?!?" is a constant gleeful auditorium refrain.
Are there any other movies that reach these peaks of earnest atrociousness?
Kermath's friend Callum suggested Birdemic. "Do you know Alfred Hitchcock's The Birds? Well it's not like that."
New Zealand seems to particularly enjoy throwing its spoons up in the air in ironic celebration of extraordinary mediocrity. Christchurch film-makers Johnny Hall and Andrew Todd are making a spoof horror set in Auckland called Ghost Shark 2: Urban Jaws, in which The Room's principal actress Juliette Danielle makes a cameo appearance with Birdemic actor Alan Bagh.
Birdemic and The Room together. Careful; the universe may explode.