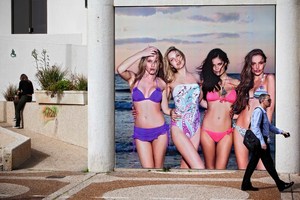 Israel has become the first country to ban underweight models from catwalks and commercials.
The move is the first attempt by a government to use legislation to take on a fashion industry that has been accused of abetting eating disorders by glamorising extreme thinness.
The move is being closely watched by MPs in Britain and the United States, which have guidelines for designers and advertisers but no hard and fast rules.
The new law requires models to produce a medical report dating back no more than three months at every shoot that will be used on the Israeli market, stating that they are not malnourished by World Health Organisation standards.
The UN agency uses the body mass index - calculated by factors of weight and height - to determine malnutrition.
It says a BMI below 18.5 is indicative of the condition.
Any advertisement published for the Israeli market must also have a clearly written notice disclosing if the model shown in it was digitally altered to make her, or him, look thinner.
The law will not apply to foreign publications sold in Israel.
Top Israeli model Adi Neumann said she wouldn't pass under the new rules, because her BMI was merely 18.3.
She said she ate well and claimed that the legislation should have focused on health and well-being, not weight.
- DAILY MAIL