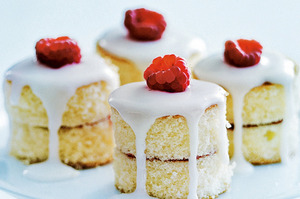 Wanting to impress a party, but, short on time? No problem. These delectable bite-sized treats are elegantly presented and easy to make.
Makes 4
200g store-bought sponge cake
Raspberry jam, for spreading
1/2 cup icing sugar
1/2 Tbsp hot water
Fresh raspberries, to serve
1 Using a 4cm-round cookie cutter, cut 8 rounds from the sponge cake.
2 Spread half the rounds with raspberry jam and top with remaining rounds.
3 Place the sugar and hot water in a bowl and stir until smooth.
4 Drizzle the icing over the cakes and top each cake with a
raspberry to serve.
* For more recipes by Donna Hay click here.