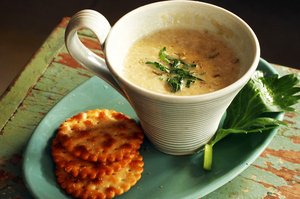 The method used to make this gives the best result for all vegetable-based soups. Use it for any combination you like, remembering that the potatoes or root vegetables you use are thickeners. If you are adding leaf vegetables just make sure there is a good proportion of denser crops to result in a smooth puree, you can always thin the soup with more stock at the end if it turns out to be too thick.
Serves 4
1 In a solid-based saucepan melt 1tbsp of butter into 2tbsp of olive oil.
2 Sweat off a finely chopped medium-sized onion.
3 Add 4 peeled chopped celery stalks and 2 medium-sized (mashing) potatoes, peeled and cubed.
4 Gently toss over a low heat until the vegetables start to soften, at least 10 minutes. Don't allow to colour. You can put the lid on the pot but keep checking the vegetables are not sticking.
5 Season well with pepper and salt (go easy on the salt especially if you are using commercial stock, which tends to be salty).
6 Once the vegetables are tender, cover with chicken or vegetable stock and simmer until the contents can be mashed.
7 Transfer to your food processor and blend. You could use a mouli or just push through a sieve. If you want a very fine texture, use a sieve.
8 Add more stock, milk or cream if needed.
9 Return to the pot, gently warm, adjust the thickness and season to your taste. Garnish with some fennel seeds.
If you had Florence fennel in the garden you could include this in the recipe. Finely chop 1 head and sweat with the other ingredients.