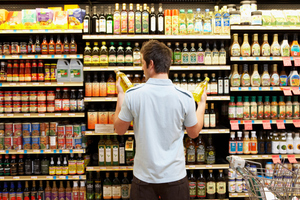 Picking house brands over products with flashy well-known names could cut up to 36 per cent from your supermarket bill.
A survey by Consumer magazine and APN sister paper the Bay of Plenty Times found there were significant savings to be made in the shopping aisles.
Consumer sent shoppers to buy a basket of 20 basic items from supermarkets in Auckland, Wellington and Christchurch.
By sticking to the cheaper house brands, one shopper was able to save $31 at New World - a 36 per cent saving across 20 items.
The organisation also carried out its survey at Pak 'N Save with Budget and Pams products and Countdown with Home Brand products.
After the Consumer finding, the Bay of Plenty Times did its own survey at Mt Maunganui New World yesterday - and the findings were even more dramatic.
A basket of 20 basic items from well-known brands such as Eta, Tip Top, Nescafe and Wattie's cost $120.48.
But a basket of house brand products, such as Pams and Budget, cost $75.15 - a saving of $45.33.
The largest savings were found in the cleaning product aisle where buying Budget dishwashing liquid could save more than $7 and Budget laundry power almost $5 compared with name brand alternatives.
Mt Maunganui New World owner-operator Allan Rudkin knew the house brand products were cheaper but was surprised by how much shoppers were able to save by sticking to them.
The Budget goods were a basic product at the cheapest price, he said, while Pams products were of a high quality.
"Pams products should be as good if not better than the market leader."
There was not a big difference between the most expensive and cheapest milk, butter and cheese.
"The big brands are already offering a low everyday price so it's hard for a house brand to get much cheaper," Mr Rudkin said.
"But with other products like dishwashing liquid and baked beans you get that difference."
A spokesman for Consumer said: "Why pay $2.99 for a pack of Panadol paracetamol tablets when you can pay $1.99 for a house brand in the same store?"
Other big differences in prices included Coca-Cola and Pams Cola, where a saving of $2.26 could be made on a 1.5-litre bottle, and between Budget and Wattie's tomato sauce, which had a price difference of $3.90.
Buying a can of Budget baked beans over a can of Wattie's could save $1.35.
Clinical psychologist Hans Laven, of Tauranga, said people often believed the more they paid for something, the better it was.
Heavy advertising from name brands and snobbery could also be factors. However, people could try changing their mindset.
"You could try focusing on the difference in price and what you would spend the money on instead."