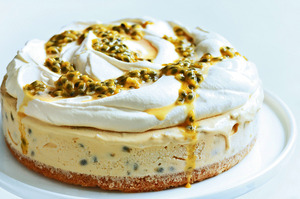 Give desserts a hint of tropical flavour with golden passionfruit. The slightly tart tang lifts rich treats with a delightful freshness.
Serves 4
200g plain sweet biscuits
80g butter, melted
2 litres vanilla icecream, softened
3/4 cup sweetened coconut flakes
3/4 cup passionfruit pulp, plus extra, to serve
1 cup pouring cream
1/4 cup icing sugar, sifted
1 Place the biscuits and butter in a food processor and process until fine crumbs form.
2 Use the back of a spoon to press the biscuit into the base of a lightly greased 20cm spring-form tin lined with non-stick baking paper.
3 Place the icecream in an electric mixer and beat until smooth.
4 Fold through the coconut and passionfruit pulp and spoon into the cake tin.
5 Freeze for 4 hours or until set.
6 Place the cream and icing sugar in a bowl and whisk until soft peaks form.
7 Remove the icecream cake from the tin and top with the cream and extra passionfruit to serve.
* For more recipes by Donna Hay click here.