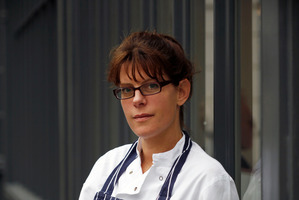 Top London-based Kiwi chef Anna Hansen tells Alice Neville why it's possible to be up there with the best without throwing wobblies.
Anna Hansen doesn't yell. She doesn't have tantrums or break plates. She's not a bully and she doesn't swear at her kitchen staff.
Despite not conforming to the stereotypes of the famous-but-abusive head chef (blame the expletive-hurling Gordon Ramsay, perhaps), this London-based Kiwi chef is at the top of her game, up against the best in the cut-throat restaurant world.
Hansen, 42, was New Zealander of the Year in the UK in 2010. She's just received an MBE and her cafe-restaurant, The Modern Pantry, is lauded by top reviewers.
But she's not a fan of loud performances in the kitchen, and you won't find any ranting and raving on her patch.
"I'm not going to work because I want to be surrounded by macho idiots who spend the day being unpleasant just because they can. It's tedious."
When The Modern Pantry, occupying two Georgian townhouses in the inner-city London suburb of Clerkenwell, opened 3 years ago, reviewer Matthew Norman of the Guardian gasped, "My God, this young woman can cook".
He's right, and the implication - intended or not - was that this ability was doubly gasp-worthy because she was a woman.
Fewer than 20 per cent of British chefs are women and they're even rarer at the top.
Which is why Angela Hartnett - Michelin-starred chef, a Ramsay protege, and one of Britain's best-known women chefs - has set up Girls' Night Out, an event in London this month celebrating female chefs by bringing together the world's best for three evenings.
She's a big fan of Hansen's food. In the Observer Food Monthly she recently namedropped The Modern Pantry as her favourite breakfast spot.
Hansen has been chosen as one of three British-based chefs to headline the event, alongside Hartnett and Clare Smyth, head chef at Restaurant Gordon Ramsay (and the first and only woman in the UK to run a restaurant with three Michelin stars).
Each woman is paired with a top female chef from abroad. Hartnett is with New Yorker Gabrielle Hamilton, who has written a bestselling memoir, Blood, Bones and Butter, Smyth is with Brazilian Helena Rizzo and Hansen joins Margot Janse, who runs Le Quartier Francais, one of South Africa's best restaurants.
Each pair will create five-course, £200 ($385)-a-head menus. Throughout the night they will talk about their food philosophies and take questions from diners.
Hansen, a bubbly woman who is far less serious in the flesh than she appears in photographs, is unconvinced that such an event, aimed at raising the profile of women chefs, is necessary.
"There are plenty of able female chefs around and I think they should be acknowledged more, without a shadow of a doubt," she says, while poaching tamarillos in red wine and spices in The Modern Pantry's pastry kitchen on a Sunday afternoon.
Hansen sees the issue as twofold. It partly comes down to the usual differences between the sexes, she says. Men are more likely to "posture about" and put themselves forward whereas women just get on with the job.
"There's less of a competitive, 'I want to be at the front' kind of attitude."
But society also has a curious fascination with male chefs, she says.
"People think that men who can cook are extraordinary but women who can cook are not. Even though we're essentially the same."
This allure is not only to do with the idea that men are entering a female domain, but also that they are turning it into a realm of exaggerated masculinity.
The poster boy for this brand of kitchen machismo is Ramsay. He wasted no time in playing up to his misogynistic reputation, whether or not he believed it himself.
Despite once saying "women can't cook to save their lives", he has in recent years appointed several females - Hartnett and Smyth among them - to top roles in his restaurant empire.
Hansen says she has worked in only one overly-macho environment and she hated it.
"Kitchens are intense places to work - hot, crammed in with lots of people, limited space, long hours but there are ways of getting your message across. Some people thrive in that environment but I for one am not a fan of it. It just destroys the whole pleasure of the job for me.
"I've been lucky to have found great kitchens, but also wouldn't really put myself in that environment. Over the years I've always worked with really nurturing, great chefs, male and female, who have encouraged in a way that hasn't involved tantrums and throwing things."
Hansen - born in Canada to a Danish-Kiwi mum and Belgian-Swiss-Kiwi dad and raised in Auckland - was introduced to the restaurant world in the early 1990s when she moved to London and got a job washing pots at The French House in Soho.
She hadn't planned to cook for a living - having studied business - but caught the bug from her bosses, the highly regarded Fergus Henderson, lauded for his traditional British cuisine and "nose-to-tail" food philosophy, and his Kiwi wife Margot.
The Hendersons became her mentors and she worked her way up to head chef with impressive speed.
Stints cooking in New Zealand and Australia followed, before she moved back to London in 1998 and worked with New Zealand's best-known expatriate chef, Peter Gordon at The Sugar Club.
Inspired by the fusion guru himself, this was where Hansen's unique style of cooking took shape, and in 2001 she went into business with Gordon to open The Providores in Marylebone.
The restaurant became hugely successful, but after splitting from her husband, who was also a partner in the business, Hansen left in 2005 to pursue her own venture - what was to become The Modern Pantry.
She took over two dilapidated historic buildings in the charming St John's Square in Clerkenwell and renovated them into a light, modern restaurant.
The business - which encompasses a casual cafe, a more formal restaurant, a small traiteur (deli-cum-food store) and a catering business - has taken off.
Hansen's knack of combining ingredients based on whether they complement each other, regardless of their origin - think sugar-cured prawn omelette with smoked chilli sambal, or sake and soy roasted butternut squash risotto with filo baked buffalo mozzarella - has excited critics and diners alike.
Then came the MBE. Hansen was made a Member of the Most Excellent Order of the British Empire in this year's New Year's honours for services to the restaurant industry, much to her surprise.
The letter informing Hansen of her nomination went astray so a phone call from a man in the Cabinet office left her in shock.
"It was all very bizarre. I was like, 'are you sure you've got the right person'?"
After the past couple of years she's had, how could she doubt it?
Hansen's hottest
Ricotta, sweetcorn, green chilli and coriander pancakes with avocado and lime pickle puree
Serves 6
Ingredients
150g self-raising flour
1 tsp table salt
25g caster sugar
70g egg yolks
185ml buttermilk
65g melted butter
375g ricotta
1 green chilli, finely chopped
The kernels of 5 cobs of sweetcorn
1 bunch of coriander, chopped
2 spring onions, finely sliced
140g egg whites
3 avocados
200g good-quality lime pickle
Extra coriander for garnish
Preheat oven to 180C. Sift flour, salt and sugar in a large bowl. Whisk together the egg yolks, buttermilk and melted butter and mix this into the dry ingredients. Carefully fold in the ricotta, being careful not to break it up too much, along with the sweetcorn, chilli, coriander and spring onions.
Whisk the egg whites to slightly firmer than soft peak and fold them through the batter in three batches.
Heat a little butter in an oven-proof frying pan and dollop spoonfuls of the batter on to it. Put the pan into the oven for four minutes or so, then remove and flip the pancakes. Return to the oven for an additional four minutes or until the pancakes are cooked through and feel firm to the touch. Set aside somewhere warm while you cook the rest.
Peel the avocados, cut into chunks and puree in a food processor with the lime pickle. Check seasoning. Serve the pancakes with the avocado lime pickle puree and extra coriander leaves.