Herald Rating: 4/5
Address: 165 Onehunga Mall, Onehunga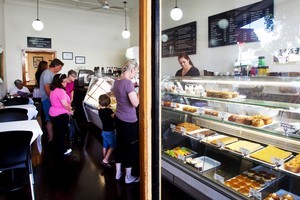 We came here because we often stop for some of their great takeaway coffee en route to the train station at the south end of the Mall and have been meaning to come back for a sit-down meal for a while.
Parking was pretty easy on a weekday morning, though the Mall can get really busy on the weekends. There are a couple of shoppers' carparks nearby if you get stuck.
We walked in and immediately thought we'd sit upstairs as it was quite busy. The layout is similar to some of the cafes in older buildings in Ponsonby and there are tables set up in various small rooms around the place. We liked the white tableclothes and the view down to the street from the open window.
The most unusual thing on the menu was the Luscious Mince, braised in red wine and Italian herbs, served on toast or sauteed potatoes ($14.50). There isn't much on the menu, but it all sounds rather nice.
We ordered the mince, which was flavoursome and a hearty serve; and the chicken, avocado and crispy bacon club sandwich on wholegrain bread ($8.50 and great value for money). It was so yummy we would travel across Auckland for this alone. We also couldn't resist a selection of their amazing salads from the impressive deli counter which has a wide selection of savoury and sweet treats, including colourful homemade animal biscuits (medium salad $11).
The coffee was Burton's Pure Expresso, served creamy and hot.
The service was friendly, thoughtful and polite.
We recommend if you come here bring the kids - one of the upstairs rooms is dedicated to a great play area for children, so you'll be able to enjoy your brekky in peace. There's also a special children's menu.
Overall we thought Luscious may not be the fanciest joint around but its food and coffee is definitely some of Onehunga's best. And that counter food is worth a visit alone. However, they're not open Sundays.