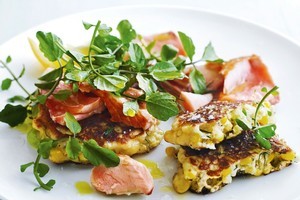 Bursting with the sweet flavour of summer, golden corn kernels add a delicious pop to fast meals. Try these delicious fritters served with flaked trout and peppery watercress.
Serves 4
1 cup self-raising flour, sifted
2 eggs
1/2 cup milk
100g cream cheese
Sea salt and cracked black pepper
3 corn cobs, kernels removed
2 Tbsp chopped dill
1/4 cup olive oil
4 x 200g salmon fillets, skin off
and pin-boned
2 cups watercress sprigs
Lemon wedges, to serve
1 Place the flour, eggs, milk, cream cheese, salt and pepper in a bowl and whisk to combine (the mixture will be slightly lumpy). Add the corn and dill and fold through to combine.
2 Heat 2 Tbsp olive oil in a large frying pan over medium heat. Add 1/4 cup of the mixture, at a time, and cook for 2 minutes each side or until cooked through. Set aside and keep warm.
3 Add the remaining oil to the pan, add the salmon and cook for 4 minutes.
Turn and cook for a further 4 minutes or to your liking. Flake the salmon.
4 Top with the salmon and watercress and serve with the lemon wedges.
* For more recipes by Donna Hay click here.