Address: 85-87 Customs Street West, Viaduct
Ph: (09) 358 2767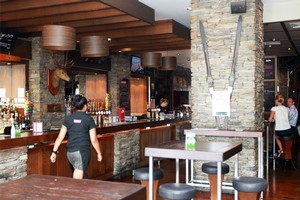 The Fox, as it styles itself these days, has turned into a sporting fortress in the Viaduct, showing everything from Uefa Champions League football to darts, but it is far more than merely a sports bar and it clearly looks after its customers, as they keep coming back.
Turning up at Sunday lunchtime, we noticed the place had a healthy number of customers, all eating, drinking and staring at the multitude of TV screens.
We fancied something less energetic, so sat at a table outside in the sun and ordered a leisurely lunch washed down with a few ales. Laid-back, efficient staff took our orders and the food and drink were on the table in jig time. Very nice, too, and reassuringly inexpensive. Their $17 Sunday roast may be the best value lunch in the Viaduct. Okay, it wasn't exactly a gourmet delight, but at $17 I wasn't complaining.
The food is a very good reason to go to the Fox, and the beer is well kept, too. The top shelves are well-stocked and the wine list is well chosen.
It's a clean bar and one that feels comfortable even if you are alone, which is partly a result of the design, but mostly because of the very pleasant staff.
In fact, I'm struggling to come up with anything much bad to say about the place at all, except that it can - and does - become crowded so, if you plan to go there, go early and grab a decent position.
Scores
Service: 4.5/5
Drink: 4/5
Food: 4/5
Atmosphere: 4/5
Overall: 4/5