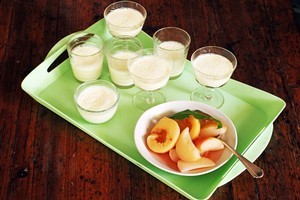 This recipe comes from a recipe book published by the New Zealand Co-operative Dairy Co Ltd. Rennet is an animal product used in cheese production, a vegetarian version is available.
Serves 6
1 cup skim milk powder
1 pint fresh milk
4 tbs castor sugar
1 tsp vanilla essence
1 tsp rennet
1 Beat the milk powder into the milk, add sugar and beat again. Heat this till only luke warm.
2 Add rennet and vanilla.
3 Pour into individual dishes (or one large one).
4 Leave to set and then chill.
Lovely with berries when in season or poached peaches.