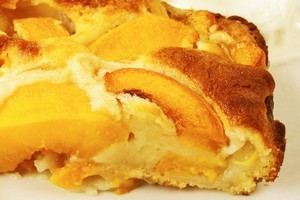 Easiest icecream ever
Use up the very last of the season's peaches (or nectarines or plums) to make the fresh version of Hugh Fearnley-Whittingstall's cheaty icecream. Blend until liquid 800g of peeled and sliced fruit, add 500ml of double cream and pour into your icecream machine.
Sweet as pie
Every gran has her own version of peach cobbler or pie: toss sliced peaches with cornflour, caster sugar and vanilla essence and pile into a sweet short pastry case. Roughly fold up the edges, sprinkle with sugar and butter and bake. Icecream or whipped cream is essential for serving.
Preserving pan
Whip up a batch of peach chutney for sandwiches or a clear peach jelly jam (use preserving sugar to give you good setting). Summer in a jar, all year long.