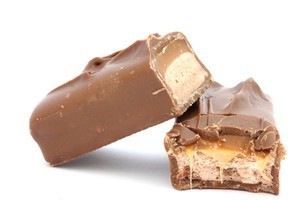 Lovers of one of New Zealand's top-selling chocolate treats, Snickers, will have to make do with smaller bars after its maker announced plans to cap the calorie content of its products.
Leading food manufacturer Mars plans to cut its chocolate products containing more than 250 calories by the end of next year around the world as part of its "broad-based commitment to health and nutrition".
The new limit means 540-calorie king-sized Snickers bars, the company's top-selling bar in New Zealand, will no longer be available.
Other popular king-sized bars - Mars, Twix and Milk Way meet the calorie count, a spokeswoman told APNZ.
The company, which also makes M&Ms, Skittles and Juicy Fruit chewing gum, said the goal was part of an ongoing effort to improve the nutritional value of its products, managing portions and calories and selling them in a responsible way.
Good news for chocolate addicts though - the move will not include 'duo packs' or larger family bars, which will be allowed a higher calorie allowance because they are designed to be shared.
Weight Watchers applauded the announcement.
"Portion control goes a long way to helping those who are looking to lose weight or maintain a healthy weight range, so we welcome this move," spokeswoman Kate Cody said.
"At Weight Watchers we know that the key to weight-loss success is down to four key elements working together; changing your diet and loading up on the right foods, changing habits, regular physical activity and support to maximise motivation."
However, she warned all treats should be eaten in moderation, saying "250 calories for a chocolate bar still represents an indulgence that should be enjoyed occasionally".
Mars also plans to reduce sodium levels in all its products by 25 per cent in the next three years.
- APNZ