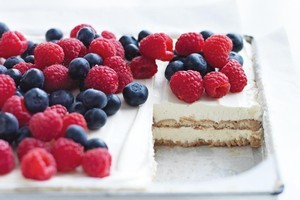 Bursting with the season's best fruit, these summer slices are just the thing to add a little sweetness to your day.
Serves 6-8
32 plain sweet rectangular biscuits
1 cup coffee-flavoured liqueur
2 cups pouring cream
2 cups sour cream
1 vanilla bean, split and seeds scraped
1/3 cup icing sugar
500g mixed berries, to serve
1 Place the biscuits and coffee liqueur in a bowl and set aside for 5 minutes to soak.
2 Place the cream, sour cream, vanilla and icing sugar in a bowl and use a hand-held electric mixer to whisk until soft peaks form.
3 Arrange 16 biscuits in the base of a lightly greased 20cm x 30cm tin lined with non-stick baking paper.
4 Top with half the cream mixture and repeat with the remaining biscuits and cream mixture.
5 Refrigerate for 8 hours or overnight.
6 Top with the mixed berries to serve.
* For more recipes by Donna Hay click here.