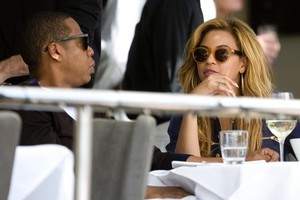 Beyonce Knowles didn't "even blink" at shades other than blue when choosing nail polish to wear out following the birth of her daughter, Blue Ivy.
The 30-year-old singer and her husband Jay-Z welcomed the baby into the world on January 7. Knowles debuted her impressive post-pregnancy body in New York City this week to support her husband Jay-Z in her first public outing since the birth. She looked stunning in a tight-fitting red Alice by Temperley dress teamed with Christian Louboutin platform heels.
Knowles's longtime manicurist Lisa Logan says the songstress was adamant about what shade she wanted her nails to be. Logan painted her fingernails with Nails Inc's new Baker Street polish.
"I don't roll with less than 200 bottles of polish on any given day," she said.
"When I pulled all of my colours out, [Baker Street] and two other colours were sitting at the top of the pile, and [Beyonce] said, 'I want this!' She didn't even look or blink at the other colours.
She was like, 'Oh no, I want this,"' Logan said.
"Ironically, when I came in, the first thing she asked me for was Minx. I always have Minx nails, [but] this was the one day I didn't have them on me!"
The beauty professional is adamant the songstress has paying tribute to her daughter with the choice.
"You see the blue nails. You see the IV tattoo on her finger. It's clear that she was bringing Blue along with her because she doesn't want to be away from her for a second," Logan told People magazine.
AAP