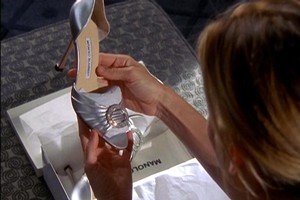 Manolo Blahnik is "tired" of the "toe-cleavage thing".
The shoe designer says people need to think outside the box when it comes to creating footwear. He's bored of seeing old designs regurgitated and hopes something new is on the way.
"Nowadays I'm in favour of something very discreet. I'm tired of the whole toe-cleavage thing. One should not even see the beginning of the toes these days; all one should note is a tiny pressure where the shoe ends and the skin begins, or the hint of a crease," he said.
The designer thinks people's desire to be rich has had a huge impact on fashion. When he started out money wasn't a consideration and he believes creations were better then because of that.
"I don't think we have advanced since the 60s. Everything was so new then. These days, we have so little creativity and freshness in fashion. There are too many collections and too much commercialism.
Everybody is driven by money. Of course, we all need money, but to make that your only motivation for creating something is wrong," he told Wall Street Journal.
"I find the idea of the super-rich quite disgusting. I recently turned down a lot of money to create a mass-market type product. I don't want to make that sort of money if I am polluting my brand."
- AAP