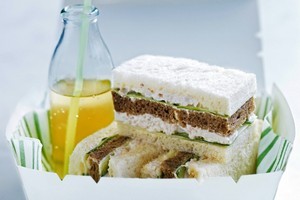 Mix up the kids' lunchboxes with these snack-size treats that are sure to get them in the mood for school again.
Makes 12
2 x 200g chicken breast fillets, poached and shredded
1/2 cup whole-egg mayonnaise
1 Tbsp lemon juice
8 slices white bread
4 slices rye bread
1 Lebanese cucumber, thinly sliced
1 Place the chicken, mayonnaise and lemon juice in a bowl and mix to combine.
2 Top 4 white bread slices with half the cucumber and chicken mixture, and top with 4 rye bread slices and remaining cucumber and chicken.
3 Top with the remaining white bread slices and remove crusts.
4 Cut each sandwich into 3 fingers to serve.
Tips and tricks:
Zebra sandwiches also make for great party snacks and can be made with any filling, such as ham and cheese.
* For more recipes by Donna Hay click here.
What lunchbox favourites do your kids have?