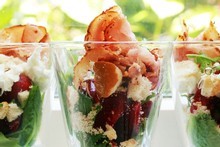 The French have a stylish name for an entrée or dessert presented in a glass, a verrine. It is a lovely visual way to show off the ingredients you are using.You can have a lot of fun layering various combinations and they look tres chic on the table.
1 Toast bread slices as if you are making crostini. When cool, crumble into small pieces.
2 Stone and slice some ripe plums.
3 Crumble some chevre, a soft, creamy French goat's milk cheese.You could use a soft feta (its taste will be sharper) but chevre has a superior, luscious texture even though it's a bit pricey.
4 Layer crisp rocket leaves with the cheese, the crostini crumble (this is a good crunch contrast) and the plum slices, leaving it all quite loose. Don't try and press the ingredients tightly into the glass.
5 Roll thin slices of smoked pork or beef into a cigar shape and sit into the glassful of goodies.
You may want to offer a little vinaigrette with this.
By Grant Allen