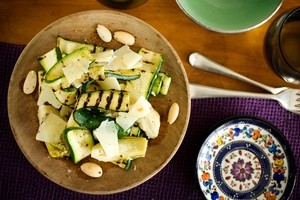 Flipping fritters
Grate courgettes into an eggy batter, with or without corn kernels. Crumbled feta or chopped mint add tang, mashed chickpeas add protein.
Flaming heck
Chargrill courgettes on the barbecue - cut into long batons or slice into ribbons - serve with a lemony or mustardy dressing. Build up the warm salad with toasted pine nuts or almonds, grilled eggplant or slivers of manchego or feta cheese.
Sweet treat
Hide grated courgettes into baked treats as a substitute for carrots, to boost bran muffins. Perfect with chocolate - but then, what isn't?