Mark Williams and his partner Melody Newton are looking forward to seeing their children grow up in the environment and community of Muriwai Beach. They love living near the black sand surf beach and tell Robyn Yousef why they can't imagine living anywhere else in Auckland.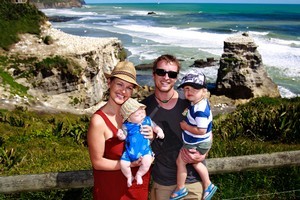 We are both originally from the South Island. I work as a sound recordist in the film and television industry and my partner Melody works in the costume department of the film industry. Melo now stays home to look after our sons, 2-year-old Beau and Jarvis, who was born at the end of November.
Melo has been living in Muriwai for eight years and I've been here for the last four. We rent a wonderful house with incredible views. The sunsets are simply amazing; we live above Maori Bay so have a great perspective of the horizon. This winter we have had some huge storms and watching them roll in from the ocean can be exhilarating.
We love living in Muriwai for many reasons with the obvious being the lifestyle, which we feel is a fair trade for the commute. But with my line of work the location is always different and I generally drive outside of the rush hours.
In terms of amenities, we are 9km from the nearest doctors, supermarket, pharmacy and school at Waimauku.
We definitely make the most of our environment. We use the beach for surfing, kite fishing, and walking. In summer we take Beau swimming in the rock pools, which are perfect for little ones. Last summer we drove up the beach and camped in the sand dunes under the full moon. That was fantastic.
Woodhill Forest is a brilliant place to go bike riding, walking and also horse riding. There are so many young families out here and with the same choice in lifestyle we tend to have an immediate thing in common aside from our children. We attend the local playgroup at the surf lifesaving club and also a locally run music class.
Our coffee group meets most Wednesdays, providing loads of quality interaction with other parents and kids. There is a great playground which we visit most days; also a BMX track and tennis courts where Beau loves to ride his bike around. I am a volunteer fireman at the Muriwai Fire Station and so am involved with various community-based events.
We have a great group of friends that live out here and summer definitely brings us together lots with evening and weekend games of volleyball and barbecues in the park. We have an awesome local swimming pool called Fools Pools, which runs year round. It has a retractable enclosure, which allows it to be indoor or outdoor depending on the weather. They run a swim school but you can also just enjoy a casual dip.
To relax in winter we'll put Jarvis in the stroller and go check out the gannet colony, then grab some fish 'n' chips and have a picnic in the park or beach. There's a lovely cafe called Sand Dunz under new ownership, they're always friendly and have a great selection of icecreams.
In summer, if the winds are right we will chuck the portable barbecue in the truck and head up the beach where we set the kite fishing rig out and enjoy a few beers - hopefully with some barbecued fresh fish. Melo loves to ride horses and has enjoyed riding with a locally run company called Muriwai Horse Treks.
Mark and Melo's picks
* Sand Dunz Cafe: Our local cafe, at 409 Motutara Rd. Friendly staff, great icecreams and food, ph (09) 411 8558
* Muriwai Top Shop: Enjoy your takeaway fish 'n' chips on the beach or try out the new fully licensed cafe. 189 Motutara Rd, ph (09) 411 8086.
* Fools and Horses/ Fools Pools: Local swimming pool with a retractable roof for swimming all year round and accommodation available. 376 Oaia Rd, ph (09) 411 9342.
* Muriwai's Gannet Colony: From the Muriwai Beach carpark, walk along the main path leading to the beach then take a left at the cliffs. Up the steps take the path to Gannet Rock (Takapu Refuge, Otakamiro Pt) for several lookout points over Muriwai's gannet colony. About 1200 pairs of gannets nest here and the views of the rugged coastline are also magnificent.