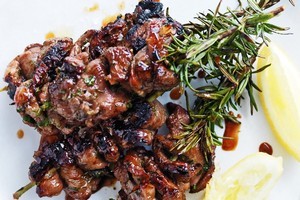 These delicious skewers are just the thing for easy outdoor entertaining. Simply marinate your skewers ahead of time and transport to a beach, park or a friend's backyard barbecue. Try these succulent, maple and mint lamb which double as a tasty portable feast - no cutlery required.
Makes 12
1 cup maple syrup
3/4 cup white wine vinegar
1/4 cup olive oil
2 cloves garlic, crushed
1 cup mint leaves, chopped
1 cup flat-leaf parsley leaves, chopped
800g lamb shoulder, thinly sliced
12 large sprigs rosemary, half the leaves removed
Lemon wedges, to serve
1 Place the maple syrup, vinegar, olive oil, garlic, mint and parsley in a non-metallic bowl and mix until well combined. Add the lamb and mix well to coat.
2 Place in the refrigerator for 1 hour to marinate.
3 Thread the lamb on the rosemary skewers.
4 Preheat a chargrill pan or barbecue over high heat.
5 Add the skewers and cook for 3 minutes each side for medium-rare or until cooked to your liking. Serve with the lemon wedges.
* For more recipes by Donna Hay click here.