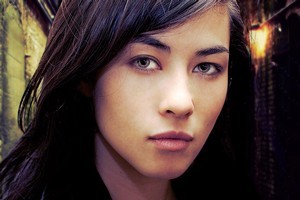 Mylene Jampanoi has been revealed as the new face of Agent Provocateur.
The French actress is lending her gorgeous looks to the lingerie label's spring/summer 2012 collection in a sensual campaign.
From a French-Chinese background, the 31-year-old's exotic looks work perfectly for the retro-inspired pictures. Softly lit and set against vintage furniture, Mylene works the vintage look in corsetry and floral underwear.
In keeping with Agent Provocateur's naughty image, the new campaign has been inspired by 70s soft porn.
British newspaper The Telegraph reports that creative director Sarah Shotton found inspiration for the shoot from "the glowing scenes from the gently erotic films such as Emmanuelle and The Story of O".
The publication also added that Shotton's collection of vintage Playboy Magazines made her "want to re-introduce the sensuality and flirtation of the 70's" into the images.
Jampanoi joins a host of other famous faces to front the label's lines. Australian singer Kylie Minogue and British model Daisy Lowe have also wowed in Agent Provocateur campaigns.
Watch Agent Provocateur creative director Sarah Shotton talk about the design process:
- AAP