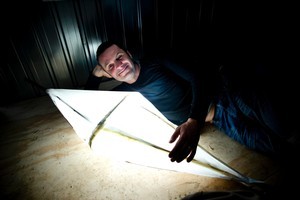 Add a sense of fun to your back yard with these easy Chinese lanterns
Finding a way to light up the garden in an interesting and inexpensive way is one way to impress guests coming over for a barbecue. Chinese lanterns are a great option for theming an event as they can be made into any shape imaginable for very little cost. They can add a great deal of interest and enjoyment to areas of your garden that might not ordinarily get much use.
The Chinese paper lantern is essentially a small balloon with a tea light candle providing the hot air which is captured inside a paper capsule. It can be made almost any size or shape you want.
If you have no theme in mind and just want to put on a bit of a spectacle, then some big random shapes will do the trick. The paper I've used is rice paper, which is light and easy to work with. Its nice crisp white colour is perfect for doing a few "clouds". Couple this with some impromptu seating areas and I can see a lantern party being the talk of the water-cooler on Monday morning, thanks very much.
I've created frames by splitting bamboo into thin lengths using a hammer, a machete and a stout knife. The bamboo is relatively easy to split, but if you don't want to spend the time, then some small profile dowelling or wire will do a fine job. The bamboo can be joined together using string, masking tape, wire or small cable ties. Once the frame is complete the tissue is best attached to the frame with masking tape then pasted into place so the seams don't leak any air. Basic shapes like a balloon won't need framing and some designs will need a hole in the top so the hot air can escape. This comes down to trial and error.
The completed lanterns, once alight, can be attached to bamboo poles so they are out of harm's way. Finally, just a word about safety. This project is made up of fire and some highly combustible materials and these need to be taken into account when making, lighting and positioning your lantern. This is an easy, enjoyable project to build, with the results giving my garden a real sense of night-time fun.
Step 1
Split the bamboo in half, then in half again. Keep reducing the bamboo until you get a cane that is light and flexible.
Step 2
Construct the basic shape of your lantern by bending and tying the bamboo together. Try to arrange your shape so there are no sharp points which could puncture the paper. Because we are making the lantern as light as possible, less is more. Don't go overboard with your frame construction.
Step 3
Cut and attach the paper. Use sticky tape to hold the first paper but for the subsequent pieces, paste it together so it doesn't leak any air.
Step 4
Attach the cradle that holds the tea light to the bottom.
Step 5
Light the tea light and test the lantern in an open space. Make sure it is firmly attached to the ground so it doesn't fly off. Keep an eye on the top. If it starts heating up too much the lantern could ignite. If this is the case you may need to put a series of small holes in it, not so many that it deflates but just enough to allow cooler air to circulate in from the bottom.