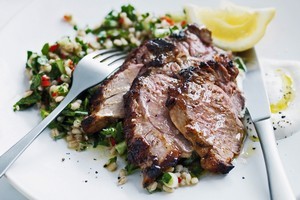 Serves 4-6
1/4 cup olive oil
1/4 cup lemon juice
1 Tbsp finely grated lemon rind
2 cloves garlic, crushed
1 tsp smoked paprika
1 tsp dried chilli flakes
1 tsp ground cumin
2kg boneless lamb shoulder, trimmed and butterflied
Lemon wedges, to serve
1 Place the olive oil, lemon juice, lemon rind, garlic, paprika, chilli and cumin in a bowl and mix until well combined.
2 Place the lamb in a baking tray and pour over marinade.
3 Cover with aluminium foil and refrigerate for 3 hours or overnight.
4 Preheat a barbecue over medium heat and cook the lamb for 15 minutes each side for medium-rare or until cooked to your liking.
5 Serve with the dips, tabouleh and lemon.
* For more recipes by Donna Hay click here.