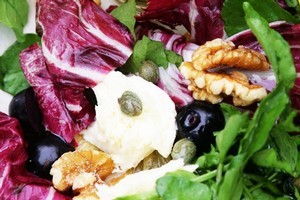 Maggie Beer is an inspired and inspiring cook. This and the recipe opposite are two ideas I have interpreted from her book Maggie's Table. The title of this recipe is the recipe, really.
1 Toast some walnuts.
2 Pick over the watercress and tear some radicchio into small pieces.
3 Cut the red grapes in half and toss all these together in a bowl with pieces of finely sliced lemon.
4 Arrange on your plates and break up some fresh mozzarella to top.
5 Dress with a vinaigrette made from a third of a cup of walnut oil, 1 tablespoon of capers and 1 tablespoon of sherry or cider vinegar. Grind a generous amount of black pepper over the salad.
Maggie used red witlof instead of radicchio in her salad and slices of bocconcini. Her tip to buy walnut oil in small quantities should be noted. All nut oils are expensive and can become rancid quite quickly. Use them sparingly, mix them with other oils to extend their use and always keep in a cool dark place, even the fridge.