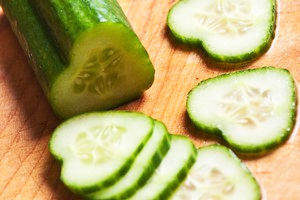 There's a reason the cucumber is the star of its own cliche.
Slender and elegant, bumpy or smooth-skinned, cucumbers really do have a cooling effect on the body, which is why they're perfect in summer salads, soups and sides.
Part of the gourd family, which includes watermelon, zucchini, pumpkin and squash, cucumbers have a great nutritional profile: They're low-cal (just 13 per cup), and contain vitamins C and A, as well as potassium, magnesium, folate, dietary fibre and the mineral silica.
They've been around for an estimated 10,000 years and were used more recently by the Egyptians, Greeks and Romans for their skin-healing properties (they're known to prevent water retention and be good for swelling and sunburn, too). In France, they were much loved by the monarch Louis XIV.
When they're in season, not only are they abundant, they're also cheap. So I bring them home and slice them up for whatever I can think of. Sure, I put them in salads, but I'm always trying to give what's familiar a new twist.
For example, these two recipes - cucumber-avocado gazpacho and cucumber-fennel salad, both perfect for a hot summer night.
The creamy gazpacho has not one speck of dairy, yet is silky and smooth and, although cooling, also has a kick at the end. (Read the recipe for the surprise ingredient.)
The cucumber-fennel salad might also be called cucumber spaghetti, because the long curls of cucumber are more easily twirled on your fork than they are simply scooped up, so it's fun to eat and surprising, too.
Cucumber-avocado gazpacho
Makes 2 regular-size bowls or 4-6 small appetiser portions
A couple of splashes of sherry vinegar and a bit of olive oil give this summer soup a Spanish accent - you may also want to add crispy croutons to this, or a chopped, hard-boiled egg.
Ingredients:
4 large cucumbers
2 large avocados
2 medium shallots
1\4 cup olive oil
2 tablespoons sherry vinegar
Juice of one lime
1/2 teaspoon sea salt
Drop or two Tabasco sauce (you don't want to overdo, or you'll overwhelm the flavours of the cucumber and avocado)
Coriander (for garnish)
Method:
1 Peel cucumber and cut off the ends. Cut in manageable pieces, about 4-5 inches long. Slice away the part with the seeds, leaving the flesh. Do this with all of your cucumbers and put in the blender.
2 Then peel the avocados and add to the blender, too, along with the rest of the ingredients. Puree until smooth. Taste and adjust ingredients. 3. Refrigerate for 2-3 hours, at least, so the flavours can come together. Garnish with coriander.
Tip: This is even better the next day, so it's a great soup to prepare in advance.
Cucumber-fennel salad
This was inspired by a French cocktail made with the anise-flavoured liqueur Pernod, along with lime juice and cucumber. Adding mint makes it a bit more cool.
Ingredients:
2 large cucumbers
1 large bulb of fennel
10 mint leaves
Lime vinaigrette, recipe follows
Method:
1 Peel the cucumber and discard the skin. With your vegetable peeler, make nice long ribbons of cucumber. Put these in a bowl.
2 With a mandoline or sharp knife, slice the fennel in thin pieces. Add this to the bowl. Tear the mint and toss in, too. Drizzle the lime vinaigrette over the slaw (you won't need all of it). Toss and serve.
Lime vinaigrette
Makes enough for 4 servings of salad
Ingredients:
2 teaspoons soy sauce
1 tablespoon rice wine vinegar
Juice of one lime
Pinch red pepper flakes
1/4 cup canola oil, grape-seed oil or another light, flavourless oil
Method:
1 In a bowl or jam jar (I like these best for making vinaigrettes), put in everything but the oil and give a shake.
2 Add the oil and shake some more.
Note: This vinaigrette will keep for about a week in the fridge.
- AAP