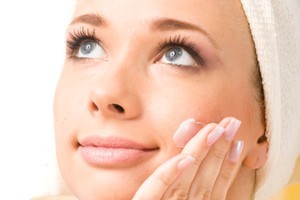 A range of anti-ageing creams which 'trick' human skin cells into regenerating is expected to be launched this year in the UK.
The products, designed to smooth out wrinkles and repair damaged skin, have been designed by experts in 'glycobiology', the science of using naturally occurring sugars to improve health.
L'Oreal hopes its attempt to harness the technology, registered as Glycanactif, will prove a popular addition to the multi-billion dollar cosmetics market.
Artificial chemicals have been developed to mimic the behaviour of natural ones which penetrate the surface and stimulate the regeneration of skin cells.
These natural chemicals become less active with age, so it is hoped the cream will cause a manufactured stimulus to improve the condition and appearance of the skin. Peter Seeberger, a director at the Max Planck Institute in Berlin, who has been working with L'Oreal on the project, said: 'The research has shown clear beneficial biochemical changes [to skin quality].
'I'm interested in health, not face paint, but I was very surprised to find out how much real scientific experimentation was going on in a cosmetics company.'
Richard Gallo, a professor of dermatology at the University of California in San Diego, said: 'The study results are surprisingly good, but we don't know if these molecules are really getting into the skin or how the beneficial effect works.
'The optimistic side of me says it does have the potential...but the pessimist in me says it might be just another piece of hype.'
- THE DAILY MAIL