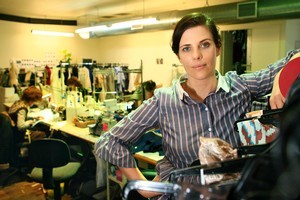 Fashion designer Karen Walker at her Grey Lynn work shop. Photo / Martin Sykes
KAREN WALKER
Designer
What is your favourite book?
The Great Gatsby
Why?
Our work has often been inspired by the dichotomy that is modern America and this is what's at the heart of this novel and gives it its great tragedy which I adore.
How many times have you read it?
Once
What is your favourite movie?
The Party
Why?
Peters Sellers is amazing throughout but it's the "Birdy Num-Num" scene that always gets me.
How many times have you watched it?
It must be at least six times now.