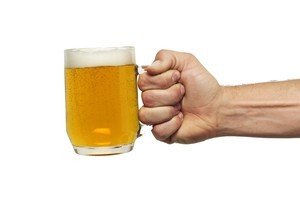 Britain is shaking off its reputation as a nation of beer drinkers.
Consumption has fallen by almost a quarter since 2006 largely because many men have given up on going to the pub, research shows.
Increasingly, they are drinking at home with wives and girlfriends, where they are more likely to share a bottle of wine, cider or spirits.
Beer sales through pubs, restaurants and the High Street are down from 4.1billion litres a year to 3.2billion over the past five years - a drop of 23 per cent.
The net effect is that the nation is drinking about 4.3million fewer pints each day, taking the figure to around 15.2million.
The research comes from Mintel, which suggested the high cost of beer in pubs was a major reason for men staying at home.
Many have switched to buying from supermarkets, which have been selling beer at a loss for many years.
Mintel analyst Jonny Forsyth said: "Alcohol drinking [in pubs and restaurants] has become so expensive that, for many, drinking out is now a luxury rather than a standard night out."
- DAILY MAIL