Find more restaurant reviews with our Google map
Address: 3 Vernon St, Freemans Bay
Phone: (09) 309 5446
Website: harunoyume.co.nz
Cuisine: Japanese
Rating: 7/10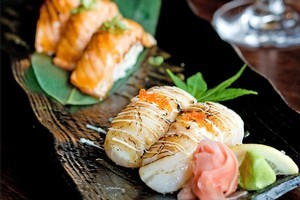 Believe it or not, I don't always want to be "wowed" when I go out to eat. Sometimes, I just want dinner. Forget the theatrical display, staged tableside and served by staff who are entertaining, sassy and charming all rolled into a sexy, half-apron and tight black T-shirt. After a big day at work when I'm devoid of meal ideas, ingredients or just the energy required to throw together dinner, I look for a place where we can arrive, be seated and have our orders taken, left alone to eat, pay and leave, all with the minimum of fuss. But here's the kicker: I still want the food to have been prepared with quality ingredients, so that it tastes great and I want my surrounds to be pleasant enough not to detract from the eating of it.
I found all of this, and more, when I spotted the small neon sign blinking from a doorway and entered the dining room of Haru no Yume Japanese Restaurant, not once but twice, in the same frantic week. Once, I dined alone and on the other occasion, it proved to be the perfect venue to meet up with friends for a catch up over dinner.
The original Haru no Yume opened in Newmarket in 2009. This newly opened branch in Freemans Bay has a more industrial feel than its cosy Newmarket cousin - exposed concrete walls, dark wooden beams, pagoda style, and planters to separate the dining space - but the delicate flower arrangements and sylph-like Japanese maples honour the restaurant's name, which translates to "dream of spring". There's a freshness to the ambience that is immediately appealing.
The menu is comprehensive and, unlike what is typical in Japan, where restaurants tend to specialise in one style of cooking (ramen, sushi, tempura, and so on), covers most of the bases of Japanese cuisine under the one roof. There's sushi and sashimi, a section called "tapas" (to appeal to our penchant for the word I'm presuming), where you'll find snacks of edamame beans, takoyaki, beef tataki, chicken karaage and more. Then there's the mains of teriyaki, katsu and even a paper pot. Separate sections are dedicated to a selection of tempura, rice and noodle dishes, salads and a selection of teishoku (meal sets), that include all of the essential elements of a balanced Japanese meal. In the open kitchen a bustling team of chefs set about preparing each dish from scratch.
We made our selection with the help of our shy waitress, who indicated when she thought we'd ordered enough to satisfy our hunger. While we waited, we sipped glasses of ice cold, sweet and strong organic plum wine and giggled at the menu that stated, ever-so politely, "we limit the sale of liquor for our customer's health and to keep nice atmosphere in our restaurant". It was placed next to the list of sake.
When they began to arrive, the plates of food were impressive - delicate and intricately presented without being fussy, and with the clean flavours that makes Japanese cuisine so appealing. The edamame were tender and salty providing us with a great snack to start with. Next came the intriguing scallop and salmon fire balls. After a quick flirt with the dipping sauce, these sushi balls topped with seafood that had been scorched to produce that wonderful taste of flame-grilled food, were mouthfuls of deliciousness. We ordered a second round of them.
The chicken karaage could have done with more flavour, and been served with shredded cabbage, as is customary in Japan to help digestion when eating fried food, but were still gobbled up enthusiastically, with smears of Japanese mayo for good measure.
We loved the small dishes of aona gomaae. This simple preparation of boiled spinach served chilled, with sesame dressing, is glorious. The creamy fried octopus balls, takoyaki, were marvellous and, as I wasn't the best person to judge the agedashi tofu, I left that to the others who are big fans of tofu - "blissful silkiness, rice paper thin, almost-crispy coating, perfectly balanced dashi, the grated fresh daikon radish a serious flavour hit".
The chicken teriyaki and beef, held no surprises in flavour but the accompanying pickles, dressings and small Japanese omelette were delightful, with the bright garnishes adding another touch of spring.
Haru no Yume is perfect if you're looking for a low-key, satisfying eating out option. It is so pleasant to slowly eat your way through multiple dishes, in calm and relatively unassuming surrounds, without experiencing that heavy feeling afterwards. I'm dreaming of my next visit.
From the menu: Edamame $6, Scallop fire ball $7, Salmon fire ball $7, Mixed tempura $12, Aona gomaae $7, Takoyaki $7.50, Chicken karaage $8.50, Agedashi tofu $9.50, Chicken teriyaki $16, Beef yakiniku $16.
Drinks: Licensed with selection of sake and plum wines (including some organic).