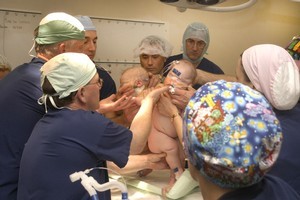 Staggering new images have been released that show conjoined twins being separated by surgeons at Waikato Hospital.
Sarah and Abbey Hose were separated during the historic operation in 2004, but pictures of the surgery have never been seen in public - until now.
They have been released in a book The Village on the Hill: Celebrating 125 Years of Waikato Hospital that celebrates the history and people behind Waikato Hospital with 48 pages of photography from 1889 to the present day.
The twins' parents, Callan Hose and Melissa Davies, thought it was fitting some of the photographs should be shared to mark the anniversary.
"We'd like to acknowledge the amazing support and care we got from the surgical and anaesthetic team, led by Waikato Hospital paediatric surgeon Askar Kukkady, and from the Newborn Intensive Care Unit.
"The girls were lucky to be cared for by a truly dedicated team, and we had confidence in a positive outcome."
The now 7-year-old girls are doing well, attending school and enjoying life away from the spotlight.
Waikato DHB's team leader of photography and audiovisual Mark Forster-King said the images were some of the thousands that documented the hospital. He discusses his work - including his involvement with the twins' surgery - in the book alongside Dr Kukkady.
Other photos provide a rare behind-the-scenes glimpse of life at the hospital that includes kitchen workers preparing meals, laundry staff, carpenters and laboratory technicians peering into their microscopes.
"Those photos are kind of neat. Most patients, when they come to the hospital, tend to only see the clinical staff and treatment area, but what they rarely see are these things that go on behind the scenes, that make this place tick," he said.
There is a hint at the social side of things too: nurses dressed for a night on the town, sipping tea with the matron, or taking patients on a boat outing on Lake Rotoroa.
The book will be launched tomorrow.