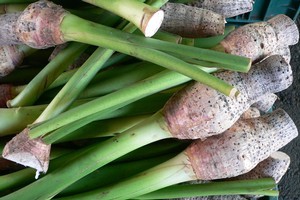 How to grow it:
This is a water-loving plant which appreciates damp areas unsuited to other food crops.
It is a beautiful plant to look at and an excellent choice in a subtropical garden understory with its large elephant ear-like leaves.
Edible taro can be obtained from Pacific Island food stores or markets, and can be grown in the garden.
Source plants from a subtropical nursery such as Landsendt.
Black ornamental taro and other Colocasia species are not for eating.
Taro prefer full sun and plenty of moisture, but will often grow large leaves in semi-shade.
Compost and mulch for impressive results.
In the kitchen:
The leaves and thick root/corm can be eaten. It is important to boil well first to remove the toxic calcium oxalate from leaves and root.
Prepare boiled leaves with coconut milk, a little onion and use as a side dish with fish.
The taro root is great in stews.