Meg Liptrot suggests rigging up a drip system to hold precious water in your soil.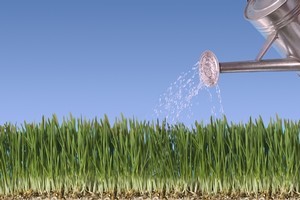 It's early summer and time to get cracking with water management in your garden. If you haven't mulched, you'll notice soil drying out quite quickly if the garden goes without rain for several days.
Wind and heat act in tandem to speed up moisture loss in the soil - not great for the garden unless you're growing dry-tolerant Mediterranean species or succulents.
First things first. To be water savvy in the garden, the best approach is to prevent water evaporating from the soil, before starting irrigation. In border gardens, around fruit trees and ornamentals, mulching is the best way to go. Instead of buying bags of mulch, team up with a neighbour and order a cubic metre or more delivered. You may have to relinquish the car pad for a week while you spread it around the garden.
Contact an arborist company that has piles of mulch in its yards, and will sell it in bulk for a very reasonable price. The ideal time to mulch is after it's rained well, to trap the moisture in the soil.
The next best thing is to collect your own water, rather than paying through the nose for it to keep your garden lush over summer. An inexpensive choice is to use a custom-designed water butt (a barrel at the end of a down pipe). Alternatively, simply connect several 200-litre plastic barrels together, perhaps along the side of the the house, fitting a tap to one. Set them up on blocks or a platform high enough to get a watering can underneath, or to attach a hose and get some pressure. For safety, use strapping to fasten each barrel against a supporting wall.
Second-hand food-grade barrels can be obtained cheaply or free, making this a budget-friendly option. Just ensure your second-hand barrel hasn't had anything toxic in it - ask the supplier. All tank options require a rain diverter - a simple piece of equipment to insert into your downpipe.
A longer-term option is to invest in a large rain tank to collect 1000 litres of water or more. In urban areas, a large tank could also double for non-potable (non-drinking/washing) use in the house when the water is not needed for the garden.
In this case, you'll need a pump in your set-up. Get a plumber to install the system. Tanks come in all shapes and sizes now, including panel systems to fit along a fence line, or flexible "bladder" tanks which can be set up under the house or deck. Another stylish option is a retro corrugated iron range, which comes in diverse shapes and colours. They look great with period homes, matching existing roofing.
You may choose to set up an irrigation system in your garden. The most water-efficient are drip systems rather than sprinklers, and they are generally better for the plants.
Overhead watering increases humidity, which isn't always ideal as it encourages fungal disease, and can damage leaves in hot weather. Subtropical plants enjoy a little overhead watering but always remember to water at the start or end of the day.
Irrigation tips
* The golden rule of watering: water well occasionally, rather than a little frequently. This will encourage plant roots deeper in search of water, and helps plants resist drying out.
* When to start irrigation? Do the finger test: dig down a little into your soil and see if it is damp. The surface may dry out, but there is often plenty of water available to plants underneath the surface. Mulching is the best method to keep moisture in. Wood/bark mulch is best for permanent plantings and perennials. Straw mulch is great for veges and annuals.
* In geeky horticultural terms, when the daily ET (evapotranspiration) rate exceeds daily rainfall for your area, irrigation should commence for water-hungry crops such as vegetables. This information can be found in the fine print under the NZ Herald weather forecast each day.
* Lawns are big water wasters. Change the blade height on your mower to allow more length on your grass, protecting the soil from drying out too quickly. Another advantage to longer grass is broadleaf weeds, such as daisies, will eventually be shaded out.