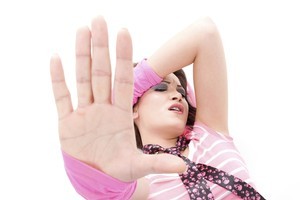 "I have short-term memory loss, so I don't remember even meeting you" is one of the excuses used by Gen Y to get back into a relationship-free zone.
And you can bet the news will be delivered by text.
The National Gen Y Dating Report has revealed that almost 22 per cent of those surveyed are so non-committal they'll use abrupt and hurtful excuses to break off a partnership.
Break-up lines have included: "I know I can get someone better" and "I'm seeing someone else at the moment and just don't have time to see two people".
One in ten of those surveyed said they hadn't broken up with their latest squeeze in person, preferring to give them the flick via text.
Twenty-somethings also let their exes know they were dumped by changing their Facebook status to single, or getting their friends to do the dumping for them.
The survey also found that it's brunettes, not blondes who are actually having more fun, with almost a quarter of dark-haired people saying 12 months or less is their longest relationship stint.
Redheads lead the charge when it comes to admitting they avoid commitment at all costs.
Government workers say lying that they're "batting for the other team" has worked for them when it comes to breaking up with their partner.
Young women are more bothered about what their family and friends think of their love interests, at 15 per cent, compared to only eight per cent of men.
The survey, commissioned by Game Australia, talked to more than 1000 young people nationwide.
- AAP