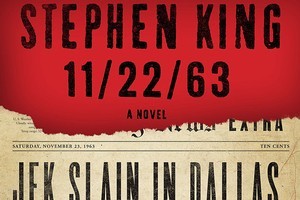 A new novel by horror author Stephen King that features the line "Oh dear, oh my dear, oh my dear, dear God, oh sugar!" has been nominated for a bad sex in literature award.
The passage, from King's novel 11.22.63, also compares sex to "a horizontal version of the Madison" dance, the Telegraph reported.
The full passage nominated from the book, about a teacher who travels back in time in a bid to stop JFK's assassination, reads:
"Ohmygodyes," she said and I laughed ... "Is there more?"
"A little more," I said. "I don't know how much. I haven't been with a woman in a long time."
It turned out there was quite a bit more... At the end she began to gasp.
"Oh dear, oh my dear, oh my dear dear God, oh sugar!"
The Bad Sex in Fiction award, organised by the Literary Review, is now in 19th year and mostly consists of male authors.
Others on this year's shortlist include Haruki Murakami, James Frey, Sebastian Barry, Lee Child, Christopher Tsiolkas, Chris Adrian, Jean Auel and Dori Ostermiller.
"The purpose of the prize is to draw attention to the crude, tasteless, often perfunctory use of redundant passages of sexual description in the modern novel and to discourage it," the Literary Review said.
- Herald online