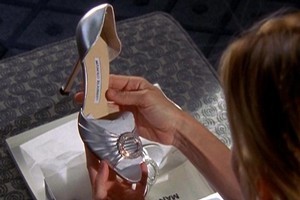 Manolo Blahnik says creating his book was "a very fun adventure".
The shoe designer's life story has been made into a unique memoir, blending biographical elements with fairytale.
Manolo Blahnik and the Tale of the Elves and the Shoemaker: A Fashion Fairy Tale Memoir was written by Camilla Morton and illustrated by Blahnik himself.
The Spanish designer says he enjoyed the whole creative process.
"I would do it whenever I had a moment, on a train, on my travels, it was a bit of a challenge.
"I haven't ever illustrated a book like this before, but it was very cathartic in a way to look back and draw images from my past. I knew Camilla would create something marvellous. It was a very fun adventure."
Morton loved creating the unique tome. The author says Blahnik's interesting character made the process even more enjoyable.
"The book is a mix of biography and fairy story," she told Vogue.co.uk.
"It is a blend of Manolo's life - from his childhood on the banana plantation to his store in Chelsea today - mixed with the tale of The Elves and the Shoemaker. Fashion designers are too magical for a straightforward biography, so what better than to mix with well-known 'Once Upon a Times' - and the finishing touch, asking the designers themselves to illustrate their story."
- AAP