A personal trainer can be highly motivating, writes Gill South. But this trainee might just be a little too high maintenance.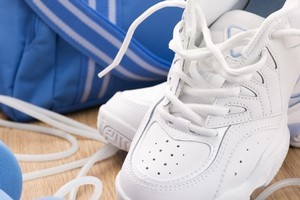 Whenever I see people working out in public with their personal trainers, I think, "You poor sod, paying someone to put you through all that".
But I have to say personal trainers do have their uses for the recalcitrant among us who need a giant boot up the derriere to make any progress.
Now, while Karina Balle, personal trainer and the physio who runs Fit Studio in Grey Lynn, would quite happily have taken me through various exercise machines in her gym - she's got all kinds of fancy equipment - I tell her there's no use me doing this because I'm just not a gym girl. What I'm looking for is a more rigorous way of doing my walks so I still have plenty of daydreaming time, but I am actually working up a bit of a sweat. Karina is happy with this as long as I'm throwing some specific body-weighted exercises into my outdoor routine so I'm developing active muscle tissue. Resistance training is about making sure there is activational pull on the bone, she tells me. Yuck.
Karina is a bit of a techie. She has attached a heart monitor to me and another thing around my arm, a BodyMedia Fit armband-which we are using as a pedometer and calorie counter in this case. Ideally when someone like me is exercising, my heart rate should be between 118 and 157 beats per minute (bpm) for most of the time. When I'm walking on the flat it is a mere 100-104 which is pretty typical of my daily walk. This is not good enough, according to Karina. I accost various pieces of park furniture, at her request, doing press-ups here and step-ups there. In between we walk along briskly.
After I've done one of the first sets of step-ups, my heart rate is heading towards 140 bpm. I also do side leglift exercises - good for the "glutes" and core, and tricep dips.
Karina worries I might find this embarrassing to do on my own. Does she think someone who writes this column is easily embarrassed? I do like my exercises being supervised though, it's reassuring. I am prone to go wrong on my tod.
Time flies when you are being tortured. Just kidding, Karina. We walk back up Bullock Track at a cracking pace. I'm hoping my heart rate will stay at a respectable level to show I'm not THAT unfit but up it climbs, to 160 bpm or so by the time we reach the top.
An hour or so after my high-energy walk, I'm feeling a bit tight in the chest. Could something be wrong? I press vaguely where my heart is and discover I still have my heart monitor on under my bra. I pop back to Karina and pitifully ask her to do remove it. Yep, I'm a high-maintenance client.
Apparently I burnt off 215 odd calories on our walk and took 3754 steps - in nearly 40 minutes of exercise. Ideally in a day you'd want to be doing 8000 steps. I think of my calorie count smugly as I enjoy a Magnum icecream that evening at the Eddie Izzard show. I've earned this, I think, relishing every bite. And it was an almond one. Positively healthy.
Next week:
My boys are going to be playing loads of sport for the next decade so I'm taking them off to see ABC Nutrition dietician Anna Keeley to find out what they should be eating in their daily diet, especially their snacks. Maybe they'll listen to her!