Taking inspiration from Maori fortifications, Justin Newcombe erects a staircase fence with a specifically Kiwi flavour.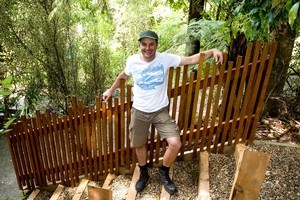 A palisade is primarily a defensive formation of long timbers or poles, often with a pointed or sharpened end. Pre-Romans used this type of fortification to defend against neighbouring tribes or wild beasts. The little garden ancestor of the palisade, the picket, which graces the streets of colonial Britain's older suburbs, defends gardens against bad driving and modern wild (child-like) beasts. Of course the palisade was hardly news to Maori when the colonists or pioneers arrived, as pa were defended with very stout and intricate arrangements of palisades and trenches. It is this reference that this little bit of bush architecture hints at most.
Different versions of palisading are appearing in public architecture and landscape architecture more and more too. Maybe it's something to do with a cultural shift or maybe it's just a shallow trend, who cares, this is one sure way to get some serious New Zealender-ness into your garden or bush track this summer.
In this instance the fence is part of the staircase we showed you last week.
Step 1
Set in your posts using a string line to make sure they are straight and a spirit level to make sure they are level. Although I have coach-screwed the posts to the timber work of the steps, I have still set the post in concrete so the fence won't be moving anywhere.
Step 2
If your rail is on a staircase like this, set a string line from the top of the top post to the top of the bottom post. Measure the same height on the post at the top and the bottom of the steps (in my case 1m), run the line to each measurement and then drawing the angle with a pencil (or you could use a chalk line. Ask at Bunnings). Mark and cut the angle and trim the top of the posts.
Step 3
Hang a rail across the top of the posts and 20mm up from the bottom.
Step 4
Stain the post and rails and the palisade batons before you attach them (much quicker and easier to do as a production line, set up on a saw horse).
Step 5
Set the palisades at random heights. I did measure mine each time giving a 50mm deviation in height over a 200mm range but you can work out your own pattern. On a more level fence you may want to cut the timbers at different lengths so the bottoms of each baton are flush with the ground.
Next week:
We plant the native garden and install macrocarpa bollard lighting.