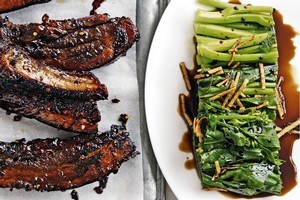 Serves 4
12 x 120g Chinese pork spare ribs
4 star anise
12 slices ginger
Marinade
1 cup kecap manis
1/4 cup honey
2 Tbsp finely grated ginger
3 tsp dried chilli flakes
2 tsp Chinese five-spice powder
Steamed Asian greens, to serve
1 Place the ribs in a large, deep saucepan and add enough water to cover.
2 Add the star anise and ginger, cover, and bring to the boil. Reduce heat and simmer for 45 minutes. Drain and set aside.
3 Preheat oven to 180C.
4 Place the ribs on a baking tray lined with non-stick baking paper.
5 To make the marinade, combine the kecap manis, honey, ginger, chilli and five-spice and brush generously over both sides of the ribs.
6 Roast for 15 minutes each side or until the ribs are sticky and golden.
7 Serve with steamed Asian greens.
* For more recipes by Donna Hay click here.